Korea, UNWTO seek to expand cooperation on tourism :: Korea.net : The official website of the Republic of Korea
Minister of Culture, Sports and Tourism Kim Jongdeok introduced to the United Nations World Tourism Organization (UNWTO) his policies on new paths that the tourism industry could take. The minister also made suggestions on how to expand international cooperation across the sector.
His remarks came during the opening ceremony of the 21st UNWTO General Assembly, kicked off on Sept. 14 in Medellin, Colombia. The conference had in attendance Colombian President Juan Manuel Santos as well as tourism ministers and vice ministers from 158 UNWTO member states.
Pointing out that the majority of tourists coming to Korea from other parts of the world choose to travel by plane, Minister Kim stressed the need to revitalize domestic tourism on par with innovation in the aviation sector. "We need to build a sound partnership between tourists and the aviation business," the minister said.
During the main conference, held under the theme of "How to Achieve a Comprehensive Development in Tourism, a Development That Enables Society to Change," the minister introduced a series of measures carried out by his government aimed at bringing the sluggish domestic tourist industry back to its condition before the recent MERS outbreak. Some of the measures he outlined included dispatching a promotional delegation to talk up the nation's tourism sites, taking advantage of tourism-related advertisements that feature world-renowned pop stars, giving tour groups from Southeast Asia special fee exemptions and, lastly, the "Korea Grand Sale," a campaign that offers a range of discounts on shopping, concerts and accommodations.
Following the conference, the minister held talks with his Chinese counterpart Li Jinzao and then with Colombian Culture Vice Minister Sandra Howard. During the talks, they had in-depth discussions on how to further increase exchanges in the tourism sector between the two nations.
The Colombian vice minister, in particular, expressed her hopes that the Korean government would expedite the establishment of its "International Sustainable Tourism-Eliminating Poverty Organization," with the goal of achieving its two goals: sustainable tourism and a poverty-free world.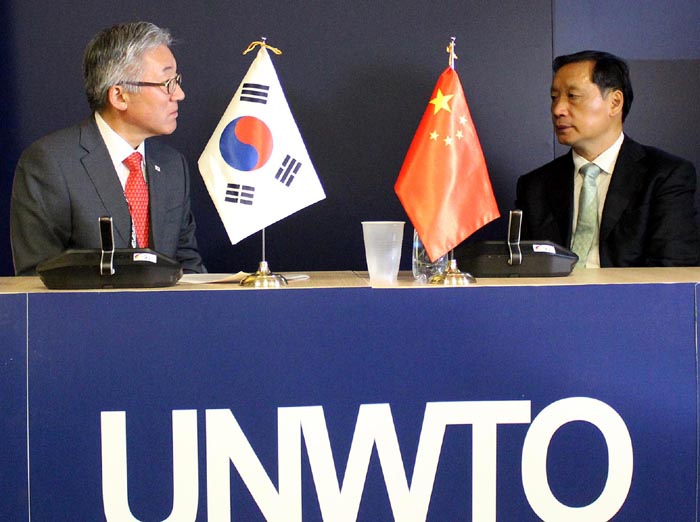 By Sohn JiAe
Korea.net Staff Writer
[email protected]