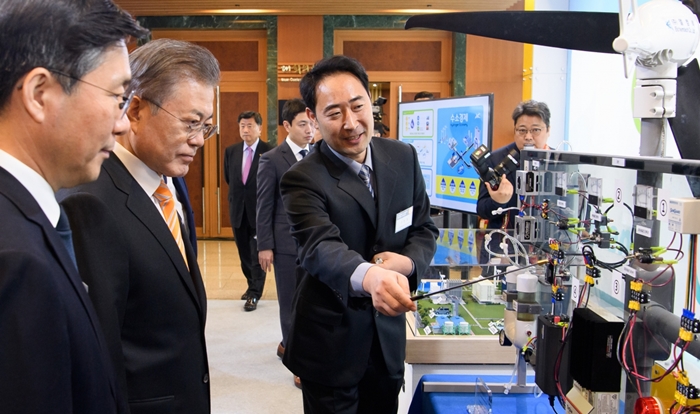 By Jung Joo-ri and Yoon Sojung
The government on Jan. 17 announced an ambitious plan to foster the hydrogen economy, a crucial sector in the administration's drive to secure future growth engines, by supporting related industries such as hydrogen-powered cars and fuel cells.
The announcement came at the building of Ulsan Metropolitan Government under the title "Roadmap to Vitalize the Hydrogen Economy and Future Energy Strategies in Ulsan."
The roadmap is composed of three parts: expanding the output of hydrogen-powered cars and fuel cells and establishing a system for hydrogen production and distribution.
The goal is to churn out 6.2 million hydrogen-powered vehicles — 3.3 million for export and 2.9 million for the domestic market – as well as build 1,200 hydrogen-charging stations across the country. In public transportation, an estimated 80,000 taxis, 40,000 buses and 30,000 trucks all powered by hydrogen will be supplied by 2040.
Another core industry the government is promoting is hydrogen fuel cells, which require no large-scale power facilities and produce no carbon.
To this end, the government plans to boost power generation through fuel cells to 15 gigawatts and 2.1 gigawatts for 940,000 households and companies by 2040. New power rates for fuel cells will be set within the first half of this year.
Work is also being done to form a system to ensure a more economic and stable hydrogen supply and production. Methods to store hydrogen will be diversified in the forms of high-pressed gas, liquid or solid status. To meet growing demand over the long term, construction is planned of a pipeline that can connect the entire country. The government will also help keep the price of hydrogen under KRW 3,000 per kilogram.
Attending the event in Ulsan, President Moon Jae-in said, "The hydrogen economy will bring revolutionary change to the country's industrial structure and transform the sources of the country's energy from coal and oil to hydrogen."
"This can be a now-or-never chance to secure a new growth engine and fundamentally change the national energy system."