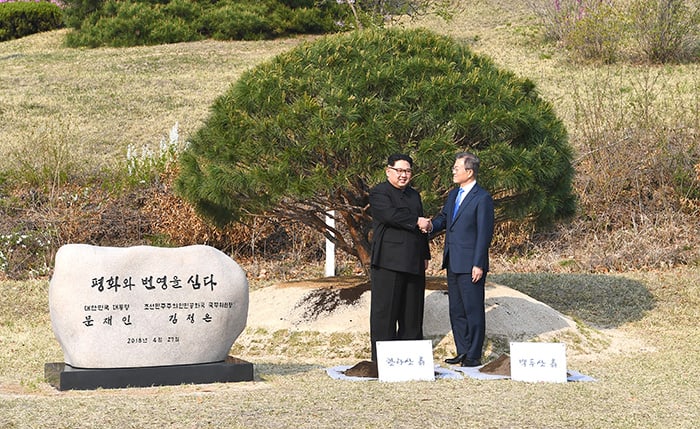 2018 Inter-Korean Summit Press Corps 
President Moon Jae-in and North Korean leader Kim Jong Un jointly planted a pine tree originally grown in 1953, known as a bansong (반송), along a path on the southern side of the Military Demarcation Line (MDL), at 4:30 p.m. on April 27.
After shoveling some soil from both Hallasan and Baekdusan mountains onto the newly planted tree, the two leaders watered it with water from the Daedonggang and Hangang rivers. They then together pulled off a cover and revealed a stone plaque with the inscription "Peace and Prosperity Are Planted" and showing each of their signatures.
Cheong Wa Dae said that the tree planting was suggested by the South and that the North accepted all of its requests, such as the species of tree and the words on the plaque.
After the planting, the two leaders walked along the Footbridge without any aides to where a signpost indicates the MDL. "This is literally a one-on-one meeting between the two leaders, and the bridge where they were strolling will hopefully become a historic site for 'Peace, A New Start'," said Cheong Wa Dae.
After the brief one-on-one, they moved back to the Peace House in Panmunjeom to continue the summit.
According to Cheong Wa Dae, the leaders will attend a farewell ceremony in front of the Peace House starting at 8:30 p.m., watch performances of the songs "Arirang" and "Spring of Hometown," and also a video clip titled "A New Spring Enjoyed Together."