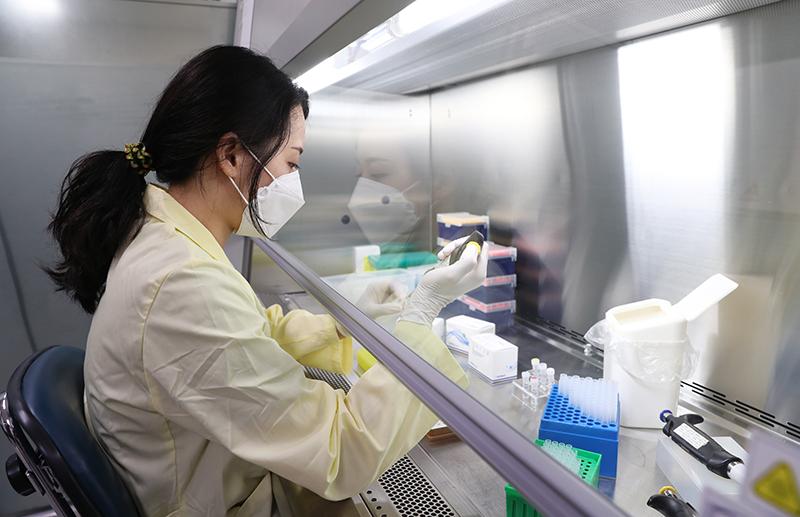 By Kim Hyelin and Lee Jihae
A domestically developed methodology for COVID-19 screening using the lab technique reverse transcription polymerase chain reaction (RT-PCR) has been adopted as an international standard.
The Ministry of Trade, Industry and Energy and the Ministry of Food and Drug Safety on Dec. 3 said the International Organization for Standardization (ISO) has adopted a Korean methodology of screening for the coronavirus.
RT-PCR is Korea's first response method for COVID-19 to receive designation as an international standard, following the government's announcement of the "3T (test-trace-treat)" approach in June.
The new standard defines the operating procedures and methods using RT-PCR in vitro diagnostic tests in laboratories.
The government said it expects the designation will boost the credibility of COVID-19 test kits made by domestic companies.
Discussion of the international standardization of screening methodologies for infectious diseases began with the 2009 outbreak of swine flu and the 2015 eruption of MERS (Middle East respiratory syndrome). A special Korean committee on national standards later devised a plan on such standardization and submitted it to the ISO.
Korea discussed the matter with each member nation of ISO technical committees including Germany and the U.S. The plan submitted by Seoul passed the ISO's final draft international standard with unanimous affirmative votes in October, underwent final mediation by member states and was registered an international standard on Dec. 2.