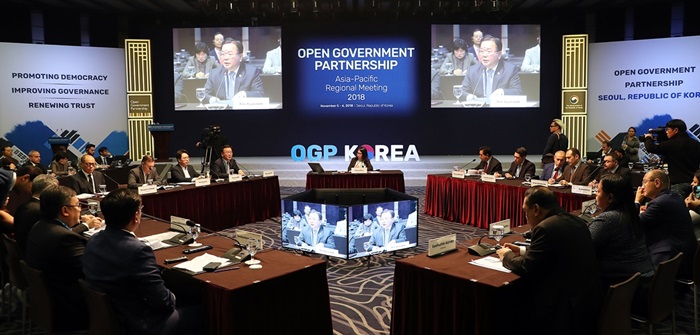 By Kim Young Deok and Yoon Sojung
Korea was ranked 25th in this year's government confidence assessment carried out by the Organization for Economic Cooperation and Development (OECD).
The Korea Development Institute (KDI) announced on Nov. 6 the changes in trust in the government and major facets that affect public trust at the breakout session of the Open Government Partnership Asia-Pacific Regional Meeting 2018.
According to the KDI, 36 percent of answerers said that they trust the government, 12 percent points higher than last year. This helped Korea to rank 25th in government confidence, seven notches up from the previous year's rank of 32nd.
This is the second highest jump in the rank and in the percentage among the OECD countries following Portugal according to the Ministry of the Interior and Safety.
In regard to the reason for the heightened trust among the people toward the government, KDI Professor Lim Wonhyuk said that "It reflected people's expectations for change followed by the launch of the new government."
"It also reflects the government's ongoing efforts to improve the quality of life by conducting a series of reforms such as eradicating corruption, strengthening communication with the people, and improving the disaster control management system," he added.
The OECD conducted the survey titled "Do you have confidence in national government?" on 1,000 Korean citizens. The OECD has been announcing the government confidence rank in its "Government at a Glance" report issued every other year since 2007.
"The survey showed us the heightened expectation of people toward the government," said Kim Il-jae, Deputy Minister for the Government Innovation & Organization Management Office of the Interior Ministry.
"We will work hard to carry out government innovation so that more people can trust the government and they can actually feel the changes in their everyday life," he said.