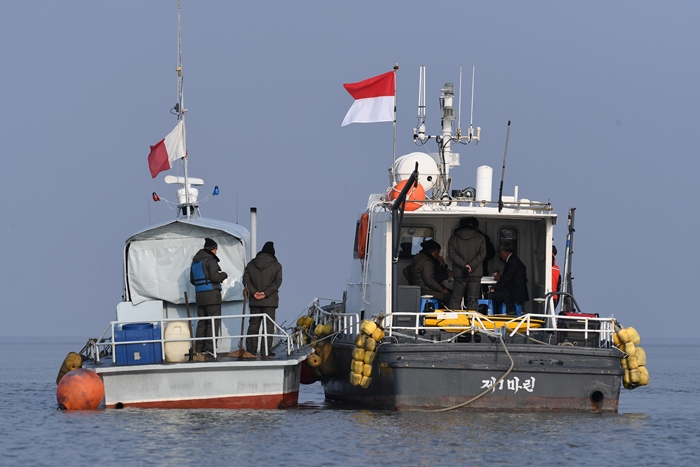 By Min Yea-Ji and Kim Young Shin 
Seoul and Pyeongyang embarked on a field survey to make a marine chart for the shared use of the estuary of the Hangang and Imjingang Rivers for the first time in the 65 years since the Korean War (1950-1953).
The Ministry of Oceans and Fisheries and the Ministry of National Defense on Nov. 5 said that the two Koreas began the joint investigation of the waterway at the Hangang and Imjingang estuary as stated in the Agreement on the Implementation of the Historic Panmunjeom Declaration in the Military Domain. It is a first for the two sides to survey a waterway together since the ceasefire in 1953.
The Korean Armistice Agreement says that civilian ships from both South and North Korea can freely navigate the Han River estuary. However, because of the military tension between the two sides, the area has been considered a sensitive zone and private cruising in the area has been limited. Collecting navigation information and making a hydrographical survey was impossible because of the restrictions in the area.
In the military agreement signed on Sept. 19, the two Koreas "agreed to devise military assurance measures for the shared use of Han River (Imjin River) Estuary." Additionally, the two sides decided to establish a joint investigation team and to schedule a joint survey of the waterways at the general-grade military talks held on Oct. 26.
The 20-member team consists of military officers and waterway specialists from both sides. The Korean government plans to provide a marine chart to the public after investigating the water level of the area for safe cruising.
In the past, the Hangang River estuary was prone to accidental conflict because of the lack of the military demarcation line. The area is expected to develop into a "waterway of peace" as it can be used for many different businesses when shared by South and North Korea.
jesimin@korea.kr