Speaking in a cabinet meeting on Aug. 4, President Park Geun-hye said that going forward she will concentrate on cultural prosperity, reviving the economy and on labor sector reform.
"I would like to reinforce the foundation of cultural prosperity and strive to make our unlimited, glorious cultural potential a reality," said the president. "I ask the ministers to do their best to learn from the past and present, to come up with new ideas so that we can step forward and to think out of the box as we enter the world."
President Park also spoke about the books and reports she read while she was on vacation.
"There was one book that I sympathized with from the very bottom of my heart, "Another Korea That Only Koreans Don't About" by Emanuel Pastreich. It explains our country's strengths and potential. Korea has the potential to become a No. 1 nation. Our people's potential has been recognized in terms of pop music, the popularity of Korean pop music and soap operas across East Asia and elsewhere, the Internet and in social networking services, as we have taken the initiative in those areas. However, there are warnings that we have not been able to connect those successes with sustainability, creativity and with our underlying identity."
"This year is the 70th anniversary of Korean independence. We have often underestimated ourselves, but Korea is considered to be one of the countries that has the greatest potential. Depending on what we do now, Korea can or cannot take the leap and become a No. 1 nation, create value in the international community and lead not only in the global economy but also in the arts and society," said the president.
"To overcome the 'Korea discount,' our identity crisis and to clearly become a developed nation, it is first important to establish and develop an objective recognition of our outstanding traditional culture and our identity," said the president. "Depending on what we do, our efficient traditional under-floor heating system can become a symbol of sustainable development and our traditional organic farming techniques can lead an agricultural revolution around the world. The spirit of our Confucian scholars can greatly influence the spiritual world around the globe. The designs and patterns used in our traditional textiles, wooden crafts and pottery can create international trends today."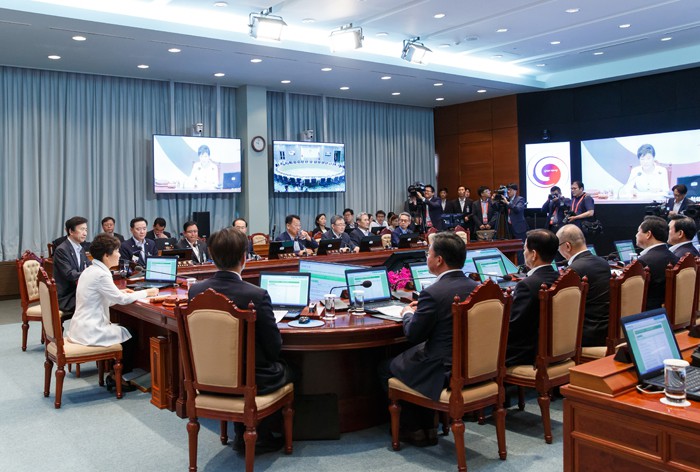 "The problem is that we have not been able to continue to develop our traditions. Korea was the first country in the world to ever develop metal movable type," said the president. "The social networking platform Cyworld introduced unprecedented social networking services in the early 2000s, but it didn't try to go overseas and it hit a stumbling block. Korea has 5,000 years of history and tradition, but it lost its roots and has undermined its identity and pride."
"We need to rediscover the unlimited potential of our society and traditions and to make an effort to revive them," said the president. "We need to recognize that this is the best way to reach a new beginning and the future, and we need to cooperate with each other to raise ourselves higher. Only then will Korea be a first-class nation and a leading country in the world."
By Wi Tack-whan, Limb Jae-un
Korea.net Staff Writers
Photos: Cheong Wa Dae
[email protected]