There is a range of events scheduled to commemorate the 70th anniversary of Korean independence and to remind people of its meaning and importance.
A ceremony to mark the 70th anniversary of Korean independence will take place in 14 nations around the world, along with photo exhibitions and concerts. The descendants of patriotic independence activists and ethnic Koreans from overseas will be invited to participate in these ceremonies.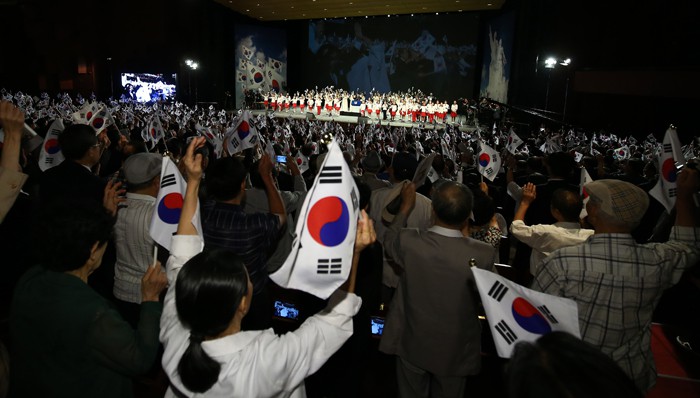 At home, there will be a range of events scheduled for Aug. 10 to 16, where descendants of independence activists living overseas have been invited to speak in Korea, in a bid to reinforce a sense of pride and community.
A concert will also be held at the Independence Hall of Korea in Cheonan, Chungcheongnam-do (South Chungcheong Province), on Aug. 16 to mark the anniversary. The concert will feature soprano Sumi Jo, among other musicians, and a choir of 500 singers who belong to different regions and generations.
There will also be a "Lights of Unification" event that will illuminate the sky with three beams of light that symbolize veterans, patriotism and unification. It will run for four hours beginning at 8 p.m. on Aug. 14, 15 and 16. The event contains a message of gratitude toward those who sacrificed their lives for the country, a wish to achieve the dream of reunification and the harmony that exists through a sense of patriotism and national integration.
A light show about the Taegeukgi, the national flag, will be held over 10 days against the façade of the Seoul Square building beginning on Aug. 11, across the street from Seoul Station. Along with this event, 815 Taegeukgi-themed lights will illuminate a 2.5-kilometer stretch of boulevard from Seoul Station to Gwanghwamun.
A large Taegeukgi-shaped art installation made of some 25,000 light-emitting diodes (LED) will illuminate the sky at the Daejeon National Cemetery until Aug. 31. The Taegeukgi lights contain the message of wishing for a bright future for Korea by honoring and understanding the spirit of the people who sacrificed themselves for the nation.
By Limb Jae-un
Korea.net Staff Writer
Photos courtesy of the Ministry of Patriots and Veterans Affairs
[email protected]