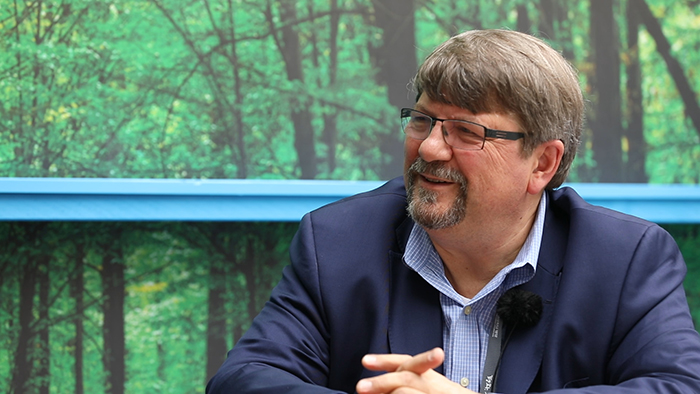 By Pyeongyang Press Corps
There is one U.S. analyst who has been pursuing issues concerning the Korean Peninsula for the past few decades. His name is Tim Shorrock and he's a Washington-based investigative journalist.
Since the 1970s, Shorrock has reported mainly on South Korea-U.S. relations and inter-Korean ties, as well as regional issues across Northeast Asia. His decades-long journalistic experience has earned him some renown as one of the most prominent Korean Peninsula experts in the world.
Shorrock was also behind the exposition of the 1996 Cherokee File about the May 18 Gwangju Democratization Movement in 1980. Containing formerly secret records of meetings and confidential documents from the U.S. government, he brought to light the U.S.' tacit approval of the Chun Doo-hwan military regime's troop mobilization against the democracy movement.
As eyes from around the world focused on the inter-Korean summit between President Moon Jae-in and Chairman Kim Jong Un of the State Affairs Commission in Pyeongyang, Shorrock, of course, flew to Seoul to share his insights in a panel discussion at the main press center that was set up at the Dongdaemun Design Plaza (DDP) in the South Korean capital.
On Sept. 20, right after the announcement of the Pyeongyang Joint Declaration of September 18, Shorrock said in the conference that, "It's a good sign that the peoples of both Koreas stood up and that they're moving forward on their own."
Sitting down with Korea.net on Sept. 19, Shorrock called what was going on in the South and North Korean relationship to be an "extension of what I witnessed in 1972 when I was here in Seoul with my parents."
"It was September 1972. It was the day when the first North Korean delegation came to Seoul. I remember seeing the North Koreans in the buses open the window so that they could reach down to touch hands with [South Korean] people," he said. "People were really extremely happy to see North Koreans. Tears were going down their faces. The past couple of days in Pyeongyang are just an extension of what began so long ago: they wanted to end the division and wanted to create some long-standing peace."
Shorrock went on to say that, "I think we are on the verge of a major breakthrough now, where war might actually end. I'm very hopeful in that sense."
– How do you see things having developed recently on the Korean Peninsula?
"At this time, talks between the U.S. and North Korea have kind of bogged down on the issue of what comes first, denuclearization or a peace agreement. I think President Moon and Chairman Kim wanted to move the process along and try to convince the U.S. that it's time to move forward and make a peace agreement, and then move from there to steps towards denuclearization. My guess is that their real aim is to give a push-start to U.S.-North Korea negotiations."
– Please tell us about your thoughts about President Moon's strategy and approach toward North Korea.
"I think President Moon has been brilliant in a way that he has been able to negotiate with Chairman Kim as well as with U.S. President Donald Trump. He has sort of threaded a needle as it is all between them. That was a real feat. I think President Moon has been really quite amazing in his diplomacy. People with whom I've spoken in the U.S. intelligence community and the U.S. military who have served here for many years all seemed to agree that President Moon is by far one of the smartest South Korean leaders that they've ever seen.
I interviewed him two days before he was elected. When I was in Gwangju, he was in the city for a campaign event. I was really impressed by what he said and his determination to try to end the U.S.-North Korea tension by forging engagement with Pyeongyang. I think that was kind of a gamble President Moon took and it worked. So far, it has worked. From where we are today to when it was one year ago, it's quite amazing."
– What do you think should be done to keep this peaceful movement going forward?
"There's a lot of opposition in the U.S. to this. There's even opposition within the White House from many Korea experts and from members of the Democratic Party. A lot of people in Washington need to be convinced that North Korea has actually made some changes and is willing to move toward denuclearization."
– What do you believe is needed to get the stalled U.S.-North Korea talks back on track?
"South and North Korea want to move ahead with economic integration, want to expand their engagement across the arts, sports and business. I think inter-Korean exchanges should be able to proceed, regardless of what happens on the nuclear weapons side. However, there are too many voices in Washington that are saying North Korea has to denuclearize completely before anything can happen. I think that's a very unrealistic way of thinking. In this sense, sanctions that the U.S. and the U.N. have put in place on the North shouldn't be applied to certain South and North Korean joint projects.
There was opposition by the U.S. government and the U.N. Command that is led by the U.S. to inter-Korean projects like the connection of train tracks and the recently-opened joint liaison office inside the Gaeseong Industrial Complex. I'm glad that the U.N. Command and the U.S. backed down on that. I think that there has got to be more realism in the U.S.' and U.N.'s approach.
Also, the U.S. needs to make some changes in its strategic presence of some of its forces. There are U.S. forces not only in Seoul, but also in Okinawa and in Guam. Plus, there are nuclear weapons on U.S. ships and planes in Japan and Guam. They [the North] know that they might be attacked by the U.S. Naturally, they're continuing, apparently, to build missiles and that kind of thing. That's not going to change until there's an agreement, until they are convinced that the threat, as they perceive it, is lifted.
– What made you get interested in South and North Korea, and inter-Korean issues?
"I was here in 1959 and 1961. At that time, I was 9-years-old. I understood very well reading the newspapers about what was going on, and about the April 19 Revolution in 1960 that overthrew the Rhee Syngman government. That was the first time in my life that I ever saw people rise up and throw out a dictator. I always remember the April uprising. That was a big influence on my life.
In terms of North and South Korea, I was back here for a week in September 1972. It happened to be the same day on which the first North Korean delegation ever crossed the border into South Korea. This came two months after President Park Chung-hee and North Korean Supreme Leader Kim Il-sung had an agreement on unification. Before that, I thought there was a lot of hatred for North Korea among South Koreans, because of the Korean War. The hardship of the war was so terrible that people here really resented North Korea, I thought. However, I was wrong. That day, when the first North Korean delegation came to Seoul, I was expecting people to be kind of not very happy to see North Koreans. However, to my surprise, people in the streets were filled with joy. People were really extremely happy to see North Koreans. Tears were going down their faces. People knew that they were part of the same ethnicity and that they would like to end this sad division. There was a really deep feeling of unification.
Now, unification sounds far-off, and it is. However, people at least want to break down the walls of division and want to have reconciliation. The U.S., too, should understand the depth of that feeling here."