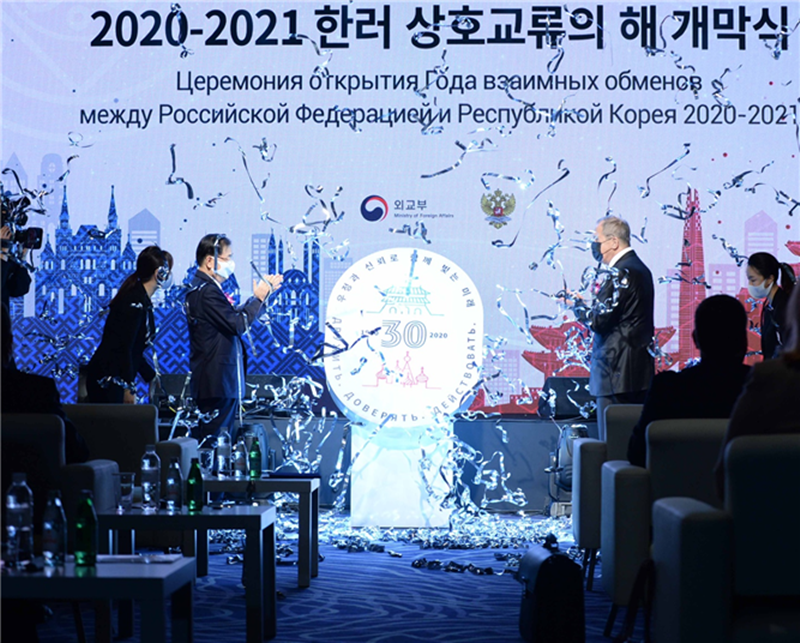 By Kim Yeojin and Yoon Sojung
Korea and Russia on March 24 launched a cultural festival to mark the 30th anniversary of diplomatic relations to firm up their intent to develop bilateral ties.
Minister of Foreign Affairs Chung Eui-yong and Russian Foreign Minister Sergey Lavrov attended the opening ceremony to launch the "2020-2021 Year of Mutual Exchange between Korea and Russia" at the Westin Chosun Seoul in the city's Jung-gu District.
This is the first ministerial-level gathering held in person to mark the diplomatic milestone, with all other celebrations marking the anniversary mostly being held online since starting last year.
The Ministry of Foreign Affairs said this event is meaningful since it indicates the full-fledged commencement of the mutual exchange year between the two countries.
Minister Chung said, "Korea and Russia have been on a journey together toward permanent peace on the Korean Peninsula as strategic cooperative partners," adding that his government will do its best to achieve progress in the peace process on the Korean Peninsula.
"The friendly and cooperative relations and people-to-people exchanges between the two countries would take a big step forward based on the 'friendship' and 'trust' built over a generation," he said.
Minister Lavrov said, "Russia and Korea have developed strong and mutually beneficial cooperation in various areas including security, economy, culture and education."
Both countries officially forged diplomatic relations on Sept. 30, 1990.
The two countries initially planned to designate last year as their mutual exchange year and host cultural events to mark it, but the pandemic prevented this. Instead, they extended the event's period through this year.