By Park Hye Ri and Lee Hana
Photos = Ministry of Patriots and Veterans Affairs
A ceremony held in Seoul on April 19 marked the 59th anniversary of the April 19 Revolution, a pro-democracy uprising led by labor and student groups in 1960 that overthrew an autocratic government and restored the country's democracy.
Organized by the Ministry of Patriots and Veterans Affairs, the event was held at a national cemetery in northern Seoul's Gangbuk-gu District with Prime Minister Lee Nak-yon, Minister of Patriots and Veterans Affairs Pi Woo-jin, government officials and residents attending. The slogan for this year's ceremony was "Democracy, our way forward."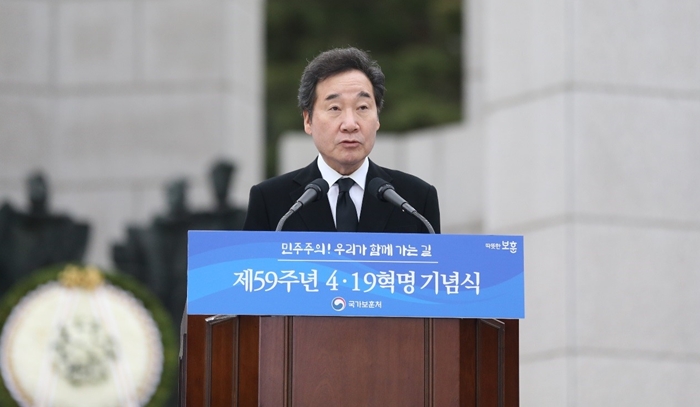 "The April 19 Revolution was the first time that the people actively exercised their rights per Article 1, Clause 2 of the Constitution, which states, 'The sovereignty of the Republic of Korea shall reside in the people, and all state authority shall emanate from the people.' This revolution laid the foundations of our democracy," the prime minister said.
"Our democracy was earned through years of endless struggle and painful sacrifice. We need to remember our history and pass it on to the next generation, and the Moon administration is making efforts to faithfully carry out this duty."
Also during the ceremony, people of merit who participated in the revolution received awards in a first since 2012. The ministry said the awards ceremony was brought back following the discovery of a police report on the March 1960 presidential election, which ultimately sparked the revolution.
To date, 1,121 people have been recognized by the government for their participation in the historic movement.
In addition to this ceremony, other events commemorating the occasion are scheduled throughout the country including a march, festivals, memorial services and a marathon.