New Stay is a new housing model: President Park :: Korea.net : The official website of the Republic of Korea
President Park Geun-hye celebrated the beginning of construction of "New Stay," a new type of long-term apartment rental program, at a groundbreaking ceremony in Dohwa-dong, Incheon City, on Sept. 17.
"New Stay will be a new model of housing in which a private company can offer good quality rental housing and respond to market changes," said President Park. She expected that the New Stay rental housing model will greatly contribute to housing stability for the middle-income class.
President Park said, "Unlike existing public rental houses, anyone can apply for these, without consideration of whether they own a house or their income level. Its residents can live there without having to worry about moving for up to eight years. The annual increase of rental fees will be limited to a maximum of five percent.
"It will be difficult for managers of non-New Stay rental housing to ask residents to pay excessively high rental fees, as they will have to compete with the costs of New Stay units. This will help stabilize the housing market for those who are looking to lease a house or pay monthly rent. New Stay is a combination of housing and residential service and will provide tailored housing services such as childcare, cleaning, and healthcare in order to meet various demands of users, including working couples and the elderly. By doing so, New Stay will boost the convenience of life and satisfaction of its users," said the president.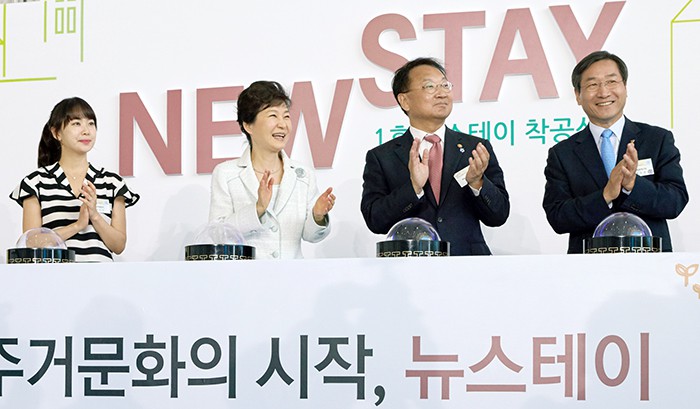 "When New Stay units increase and become a new alternative to rental houses, they will offer a crucial opportunity to change the concept of a house from 'a place to possess' to 'a place to reside.' The government will supply 18,000 New Stay units this year, and more than 60,000 units by 2017," said President Park.
The president also commented, "For the housing welfare of citizens who do not own their own homes, the government has been implementing a customized housing allowance system, beginning in July of this year, to support households that cannot afford rental housing fees. We will continue to expand the benefits of the system in the future."
"The government will provide 140,000 units of 'happiness housing' this year, so that young generations can find houses near their workplace or schools without having too much worry about financial difficulties. They will be able to move in as early as October of this year. We also introduced public silver houses, a new type of public housing for the elderly, which is a combination of public rental housing and welfare service, for the elderly who are single and economically distressed," she added.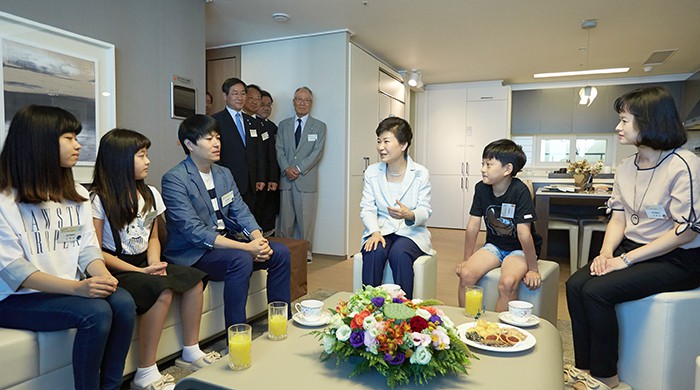 The "Incheon Dohwa New Stay Project" is part of the government's "housing rental project promotion plan" which it announced on Jan 13, this year. A total of 2,105 New Stay units will be built under the project, which is jointly funded by Daelim Industrial Co., Incheon Development & Tourism Corporation and the National Housing Fund. Successful applicants will start to move into the New Stay units in February, 2018.
By Jeon Han, Yoon Sojung
Korea.net Staff Writers
Photos: Cheong Wa Dae
[email protected]