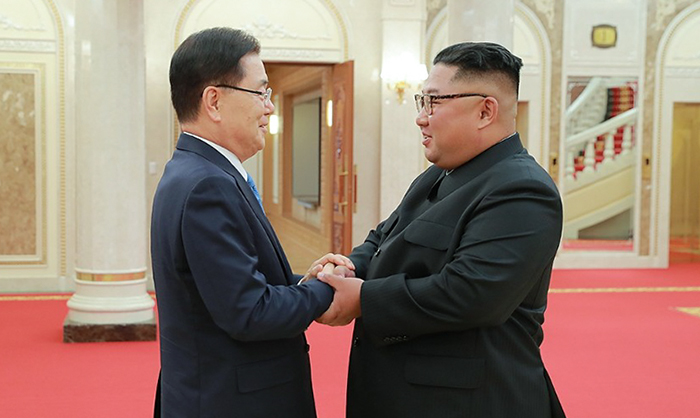 By Kim Young-shin and Kim Min-Jeung 
North Korean media are rapidly reporting news of the upcoming third inter-Korean summit now that the date is fixed for Sept. 18 to 20, following a special envoy's visit to Pyeongyang on Sept. 5.
North Korea's Korean Central News Agency (KCNA) said on Sept. 6 at 10 a.m. that North Korean leader Kim Jung Un "empathized" with President Moon Jae-in's handwritten letter, which he received on Sept. 5 via the visiting South Korea delegation, and that he reconfirmed his will to realize denuclearization on the Korean Peninsula.
The KCNA stated that Kim expressed his gratitude for Moon's handwritten letter, and said he fully supports and sympathizes with the president's goals.
The KCNA also stated that, "It is our fixed stance and Kim Jung Un's will to completely remove the danger of armed conflict and the horror of war from the Korean Peninsula and turn it into a cradle for peace without nuclear weapons and free from any nuclear threat." The KCNA added that Kim said that, "The North and the South should value all these successes that they made hand-in-hand and keep pushing forward, without deviation, the inter-Korean ties that have definitely entered a new orbit of peace, reconciliation and cooperation."
According to the KCNA, the North Korean leader said that he highly approves of, and feels gratitude concerning, President Moon's sincere efforts and bold decisions that brought about the U.S.-North Korean summit, a first in history. Kim also said, "With strenuous effort and deep thought together with President Moon Jae In, he was proud to be able to set right North-South ties that have been derailed and which have remained tragic for many years, and of having made significant and excellent progress oriented toward national reconciliation and peace."
The Rodong Sinmun, the official newspaper of the Central Committee of the Workers' Party of Korea, also reported news about Kim Jung Un's meeting with President Moon Jae-in's team of special envoys, led by Director of National Security Chung Eui-yong, placing the story on its front page.
ysk1111@korea.kr