There is a fashion show of traditional costumes from both Korea and Vietnam, aimed at expanding cultural understanding between the two nations. There's a collaborative puppet show of Czech marionettes featuring Korean pansori epic singing. There's a contemporary art exhibition between Korean and Indonesian artists. There's a Korean film festival in London and a Korean soap opera festival in Paris. There's even a taekwondo demonstration in Qatar.
These are all just some of the cultural events that have accompanied President Park Geun-hye on her overseas trips during her three years in office. Ever since her inauguration, her administration has emphasized the importance of cultural exchange, as well as cooperation in business and diplomacy, with countries all around the globe. This is thanks to her administration's respect for and understanding of the histories and traditions of the countries, and these are the embodiment of one of this government's top administrative priorities: cultural enrichment.
The Park administration's will to share and extend cultural understanding can be seen in the fashion show that featured both Hanbok and ao dai during her state visit to Vietnam. Clad in Hanbok, President Park appeared on the runway and said, "I hope our two countries can become closer and that artists of the two countries could have more chances to meet so that the two countries can truly become close partners of each other, just as the beautiful colors and silhouettes of Hanbok and ao dai are balanced in perfect harmony."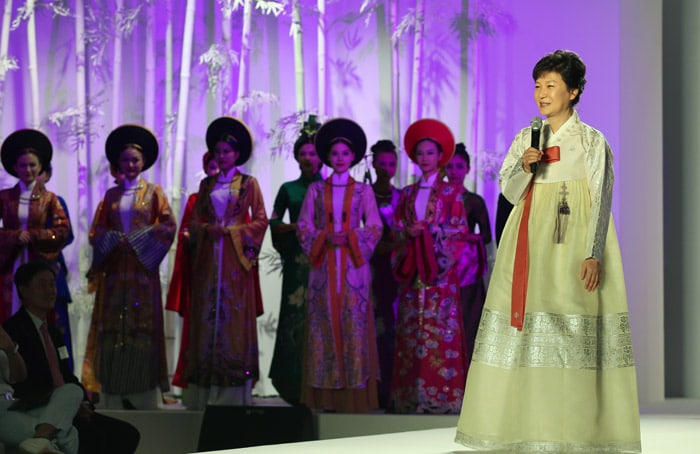 The Park Geun-hye administration has sought to create new cultural content through collaboration between Korea and its partners, going beyond simply strengthening cultural exchange and understanding. During her visit to the Czech Republic, President Park enjoyed a collaborative marionette performance that combined aSugungga score, a well-known type of traditional Korean pansori epic singing, with traditional Czech puppetry. After the performance, she proposed the creation of new cultural content by combining the traditions and strengths of the two countries, such as Korea's traditional style of story-telling and the puppet and marionette artistic traditions of the Czech Republic, in order to generate new growth in the arts.
The Park Geun-hye administration has also extended cultural understanding and exchange by hosting joint exhibitions with the countries she visited during her presidential visits. During her state visit to Indonesia, there was a joint exhibition on contemporary art that featured both Korean and Indonesian artists. Reflecting Indonesians' strong interest in Korea, the exhibition was held at a popular shopping mall in central Jakarta, not an art gallery, which attracted the eye of local media outlets.
Emphasizing the need to further develop the 40-year bilateral relationship between Seoul and Jakarta, President Park said, "There's nothing better than culture to inspire interest in each other's country. I hope the two nations can continue to have artistic exchanges and that we can invite more people to come to visit."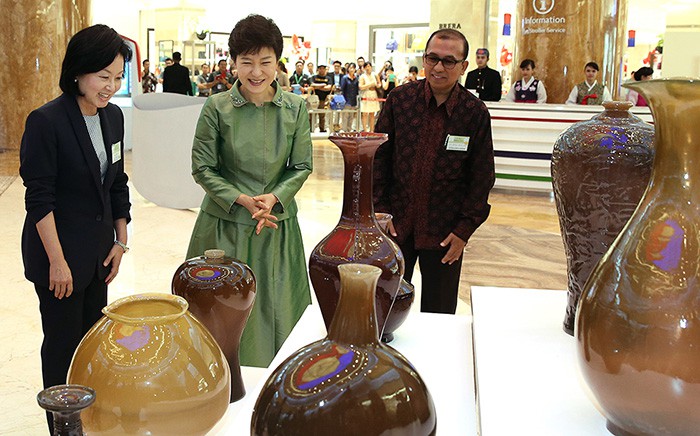 President Park showed her respect and put cultural communication into practice when she paid visits to Korea's partner countries. During her state visit to India, she visited the Red Fort, a palace founded in 1648 by the fifth Mughal emperor Shah Jahan (r. 1628-1657). It's one of India's most important cultural treasures and has even been designated as a UNESCO World Heritage site. While at the Red Fort, President Park attended the opening of the Korean Handicraft Exhibition and said, "Korea and India have many things in common in terms of history and traditions, and even both countries' Independence Day falls on the same day, Aug. 15. Let's expand cultural exchanges and further solidify the cultural ties between our two countries." This exhibition provided free admission to local residents as a way to boost understanding of Korea.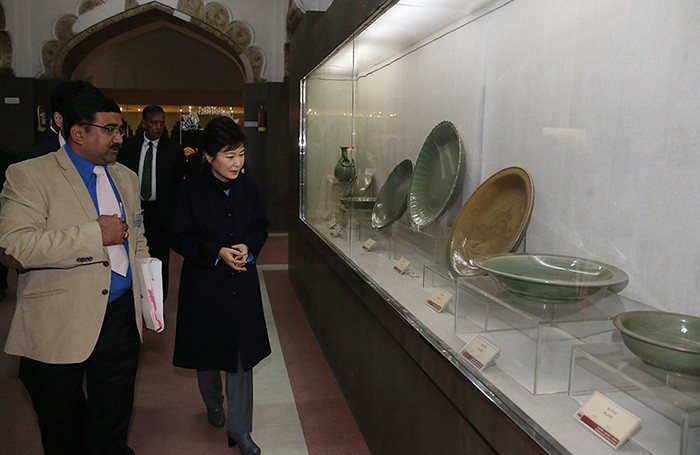 The Park Geun-hye administration's arts-centered diplomacy has also contributed to quenching the thirst for Korean pop culture in countries around the globe. In Prague, a K-pop concert was held last December. This was the first-ever such event in Central Europe. Tickets were sold out, too, reflecting the strong interest of the 160,000 K-pop fans in the region, and the concert was packed by 1,800 pop music lovers. Though differing by type or country, other cultural events were held at other presidential destinations, all contributing to expanding the footprint of Korean arts and traditions overseas. These events included a Korean TV soap opera festival in Paris, a Korean film festival in London and a taekwondo demonstration and B-boy dance performance in Qatar.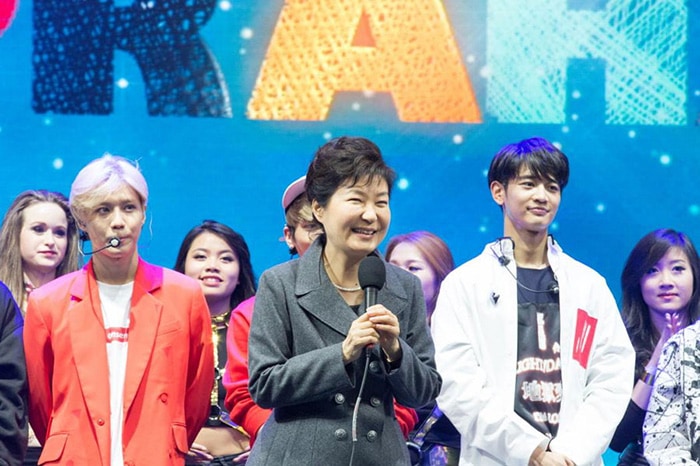 President Park's visits to local museums or art galleries or historic sites were also in line with her administration's will to put cultural understanding into practice. Some of the museums and galleries she visited were the Smithsonian Museum in the U.S., the Musée d'Orsay in Paris, the mausoleum of Qin Shi Huang in Xian, China, and the State Hermitage Museum of Russia.
By Yoon Sojung
Korea.net Staff Writer
Photos: Cheong Wa Dae, Jeon Han
[email protected]