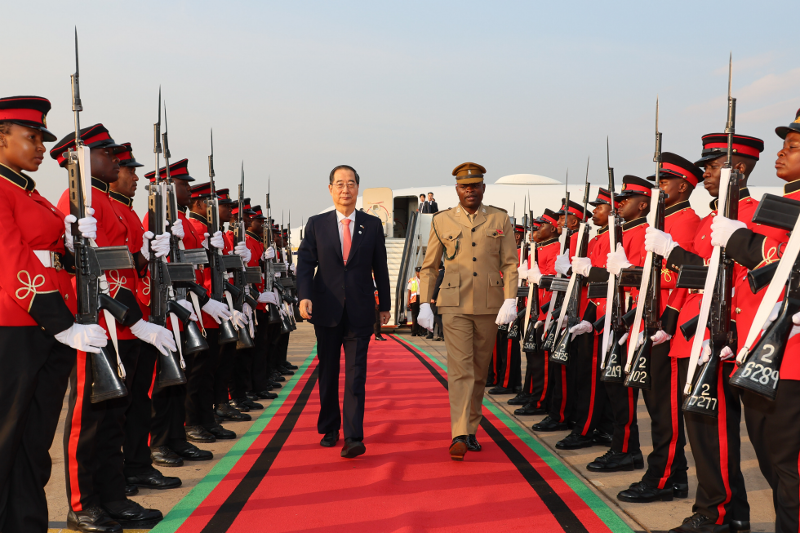 By Kim Seon Ah

Prime Minister Han Duck-soo from Oct. 29 to Nov. 4 will visit five countries in Africa and Northern Europe on a seven-day trip for last-minute efforts to promote Busan's bid for the 2030 World Expo.

The Prime Minister's Office on Oct. 27 said he will visit Malawi, Togo and Cameroon followed by Norway and Finland in that order.

His trips to the three African countries are the first by a high-level Korean official in the history of bilateral relations with each nation.
Prime Minister Han on Oct. 30 arrived in Malawi to begin his overseas tour. His summit talks with Malawian President Lazarus McCarthy Chakwera will cover expanding cooperation in economy, agriculture, education and health care as well as regional issues like those facing the Korean Peninsula.

From Oct. 30-31, the prime minister will visit Togo, which marks 60 years of ties with Korea, and hold talks with Togolese Prime Minister Victoire Tomegah Dogbe. Both sides will reaffirm their intent to boost collaboration in economy, trade, agriculture and cooperation in development and share opinions on regional situations such as those of the Gulf of Guinea, Sahel region and Korean Peninsula.

From Oct. 31 to Nov. 1, the prime minister will visit Cameroon, the final leg of his African tour, for talks with Prime Minister Joseph Ngute.

In Northern Europe from Nov. 2, Prime Minister Han will seek to bolster Korea's cooperation with Norway and Finland in economic security including climate change and supply chains.
As the first Korean prime minister to visit Norway in 16 years, he will hold talks with Norwegian Prime Minister Jonas Gahr Store ahead of the 65th anniversary of bilateral ties next year.
To conclude his overseas tour in Finland, Prime Minister Han will hold a summit with Finnish counterpart Petteri Orpo to celebrate the 50th anniversary of bilateral ties this year, reinforce relations through exchanges of high-level government officials and review follow-up measures for a Korea-Finland summit held in July this year.
In a news release, the Prime Minister's Office said, "We will reinforce bilateral ties with the countries on this visit and go all-out to garner support a month before the final announcement of the host city of the World Expo."
sofiakim218@korea.kr