President Park Geun-hye has announced that Korea will deploy additional engineering units and that it will assist with reconstruction and humanitarian activities in conflict zones. She was speaking on Sept. 28 at the leader's summit on peacekeeping at United Nations headquarters in New York.
During her speech at the summit, she outlined Korea's help in actively supporting international efforts to enhance U.N. peace operations. President Park was in New York to attend the 70th session of the General Assembly of the U.N.
Leaders from more than 50 countries from around the world attended the summit, hosted by U.S. President Barack Obama and U.N. Secretary General Ban Ki-moon. Attendants discussed the U.N.'s peacekeeping operations and strategies to strengthen the capacity of the U.N.'s overall peace operations.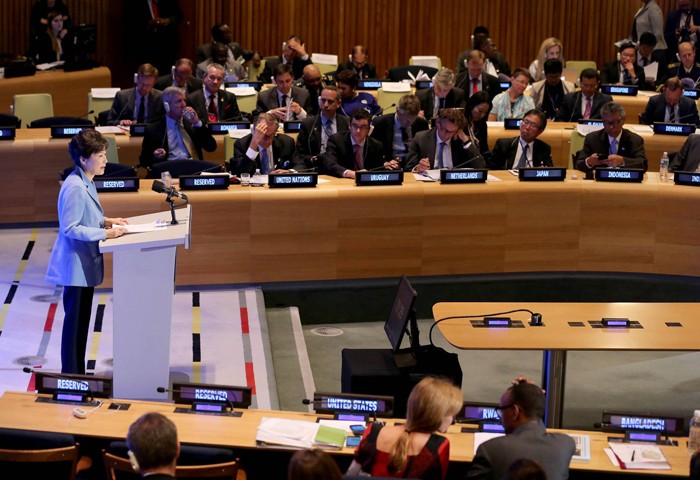 "Korean peacekeepers have long been guided by the belief that genuine peace stems from the minds of the people. Hence, their distinctive focus on cementing bonds with local communities, whether in Lebanon, Haiti, South Sudan or elsewhere," said the president, adding that Korea would continue to keep with this approach which has been widely well-received. She also outlined Korea's plans to provide, among other things, "deployable level-two hospital equipment" through the African Union to improve peacekeeping in Africa.
President Park said, "Given Korea's presidency of the U.N.'s Economic and Social Council and its presence on the Peace Building Commission, Korea has shown its commitment to steadily scaling up its financial contributions to support the U.N.'s conflict prevention and peace building activities."
"International conflicts are growing ever more complex and violent extremism is spreading far and wide. Nonetheless, the U.N.'s capacity to conduct peace operations in response to these threats remains less than adequate," she said. President Park shared the world's concerns about peace, quoting from the June report from the U.N.'s high-level panel. "As the June report from the high-level panel pointed out, U.N. peace operations need to be holistic in the strategy they pursue. They must prevent conflicts, avoid relapses and address root causes." Finally, she proposed that the U.N.'s capacity to plan and deploy peace operations be vastly strengthened.
The full text of the president's speech can be found by clicking the attached file below.
By Wi Tack-whan, Chang Iou-chung
Korea.net Staff Writers
[email protected]