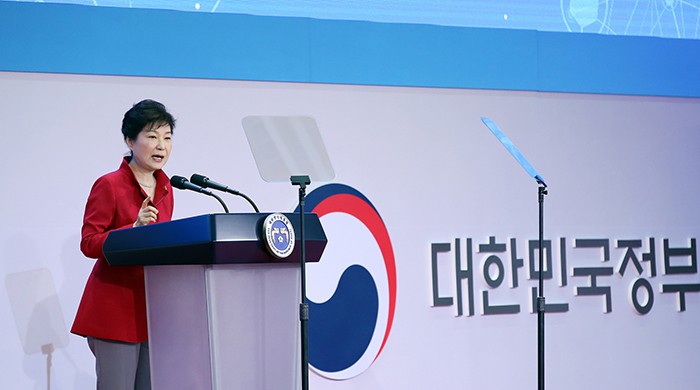 President Park Geun-hye vowed that, "My government will do all we can to open up data assets that the public really needs, to create more new jobs and to encourage more startups. We will do our best so that our creative industries can bear abundant fruit."
Her remarks came during the opening ceremony of the Government 3.0 Expo underway at the COEX convention center in Seoul on June 20. The president said that, "The ultimate goal of all efforts that we have made, to bring about any form of innovation, is to make Korea a country where the people are happy."
"When my Government 3.0 initiative begins to get deep into the people's lives and situates itself as a sound pillar for their existence, I believe that a real renovation, one that can be practical and helpful, will come to us," she said, referring to her government's initiative to individualize public services and to share government-collected data.
"We will create a system in which we can provide necessary services to individuals and get them tailored to each person's different growth stages, so that the services can be used more easily as one-stop services," the president said. She said that she vows to make the way in which the government works "smarter than ever before" by taking advantage of brand-new technologies, such as the Internet of Things (IoT), cloud computing, big data and mobile technology.
"The openness of public information and data that the government currently owns can be combined with the creative ideas that people come up with, which, in turn, can create new services and new businesses," said President Park. "We've so far released 15 types of government-owned data and, as a result, it's expected to bring about more than KRW 1.3 trillion worth of socioeconomic effects."
The president said that she had seen some changes being made over recent years in the way in which government employees work, saying that these were "changes through which people lean toward tearing down partitions and get closer to each other for a better understanding and for better communication."
She pointed out the good results that "closer-than-ever" government employees could achieve by more closely and cooperatively working together, such as the "Safe Inheritance One Stop Service" and the "Happy Childbirth One Stop Service," two recent government services.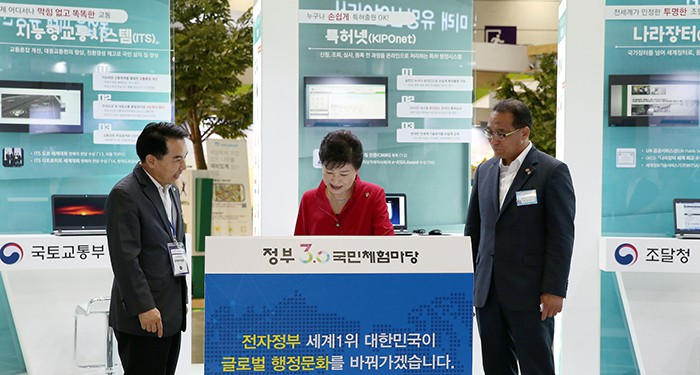 The president also said that, "In the past, people had to visit as many as seven different organizations to finalize inheritance procedures. Since having been adopted, however, the 'Safe Inheritance One Stop Service' has served as a one-stop platform for all the necessary procedures. Also, with our 'Happy Childbirth One Stop Service' having come into effect, parents can now enjoy all types of childbirth support services with a single application form."
Finally, the president concluded by saying that, "Hopefully, representatives from both central and provincial government bodies, and other public organizations, will further cooperate and collect their thoughts so as to make all these 'Government 3.0' changes become of great service to the people."
By Wi Tack-whan, Sohn JiAe
Korea.net Staff Writers
Photos: Jeon Han, Korea.net Photographer
[email protected]