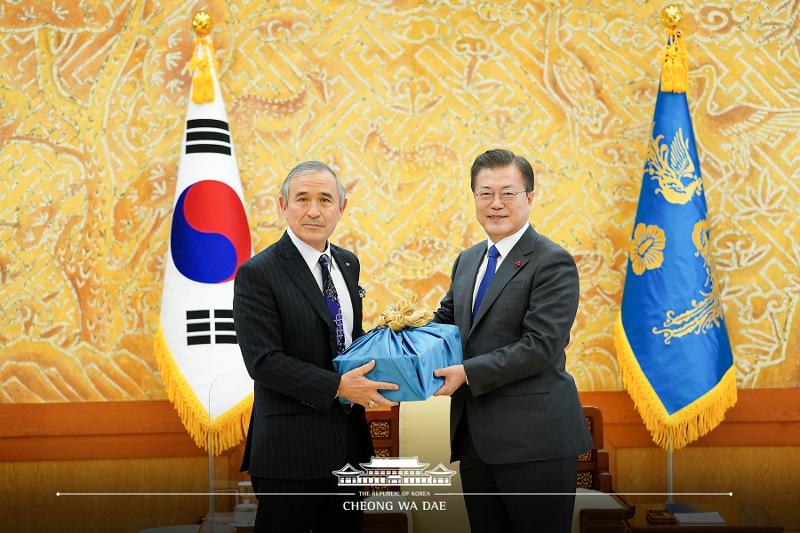 By Yoon Sojung
President Moon Jae-in has given as a parting gift the traditional liquor Andong soju to outgoing U.S. Ambassador to Korea Harry Harris.
In a 30-minute meeting at Cheong Wa Dae on Jan. 19, President Moon gave a boxed set of the liquor to the diplomat, Cheong Wa Dae Spokesperson Kang Min-seok said in a written briefing.
President Moon expressed regret over being unable to drink the soju with Ambassador Harris, recalling the ceremony in July 2018 when the diplomat presented his credentials and told the president that he loves the liquor.
At the ceremony, Ambassador Harris told President Moon with a smile that they would need more Andong soju to discuss many bilateral issues.
President Moon praised the ambassador's contributions over the past 2 1/2 years to close cooperation between Korea and the U.S. toward the denuclearization and settlement of a permanent peace on the Korean Peninsula. He also urged continued interest in and support for the bilateral alliance after the diplomat's term.
Ambassador Harris responded by saying he will leave Seoul with good memories of Korea and the friendship he built with the Korean people. As the two most "highlight" moments of his term, he picked playing a role in North Korea-U.S. relations and attending an event commemorating the 70th anniversary of the outbreak of the Korean War.
On the anniversary, he said he was touched how Korea honored and treated foreign veterans of the war from all over the world, including the U.S.
The ambassador said the bilateral alliance will continue to grow not just in military ties but also in issues of common values and interest such as culture and science and technology.
On COVID-19, he said he was happy to see firsthand over the past year during the pandemic how an innovative country like Korea responded to the coronavirus, held an election and cared for the people, saying he will never forget it.
President Moon pledged to closely cooperate with the new U.S. administration to bolster the bilateral alliance and achieve progress in the peace process on the peninsula. He added that his administration will actively cooperate with Washington to work on other global issues like overcoming COVID-19 and responding to climate change.