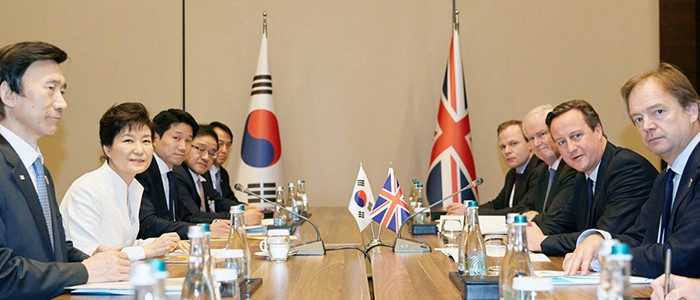 During the 2015 G20 Antalya Summit, President Park Geun-hye and British Prime Minister David Cameron held bilateral talks on Nov. 15.
During the meeting, President Park expressed her deep sympathy and condolences for the British victims of the recent attacks in Paris. Adding that Korea would actively join the fight against terrorism, she urged bolstered cooperation in areas such as crisis response and the protection of foreign nationals during times of crisis.
Starting with the president's visit to the U.K. in November 2013, the two leaders have now continued their discussions on deepening bilateral relations and expanding global cooperation.
The bilateral talks explored the possibility of cooperation on constructing and decommissioning small- and medium-sized nuclear power plants. The leaders also agreed to carry out research into new energy sectors through joint funding in areas such as fuel cells and smart grids.
President Park stated that, "The current state of global crisis calls for our continued cooperation to ensure the protection of foreign nationals, just as our nations cooperated to evacuate our citizens from Libya last year."
Finally, the talks then delved into cooperation on peacekeeping operations in South Sudan, and the leaders pledged to continue cooperative efforts in Sierra Leone to eradicate the Ebola virus.
By Wi Tack-whan, Lee Hana
Korea.net Staff Writers
Photos: Cheong Wa Dae
[email protected]