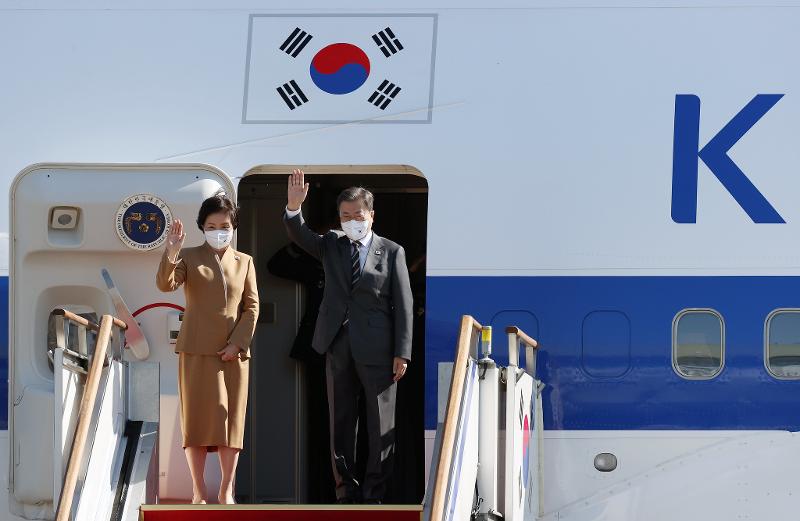 By Kim Eun-young and Kim Hayeon
President Moon Jae-in on Oct. 28 left for a three-nation European trip.
The president through Nov. 5 will spend nine days in Europe with stops in Rome, Italy, Glasgow, the U.K., and Budapest, Hungary.
On Oct. 29, he will make an official visit to the Roman Curia and hold talks with Pope Francis and Cardinal Secretary of State Pietro Parolin, his second trip there following his first in October 2018. They will discuss resolving pending global issues such as promoting peace on the Korean Peninsula, COVID-19 and climate change.
From Oct. 30-31, the president will attend the summit of the Group of 20 economies in Rome.
From Nov. 1-2, he will attend the United Nations Climate Change Conference in Glasgow and give a keynote speech.
At the invitation of Hungarian President Janos Ader, President Moon on Nov. 2 will make a three-day state visit to the Eastern European country.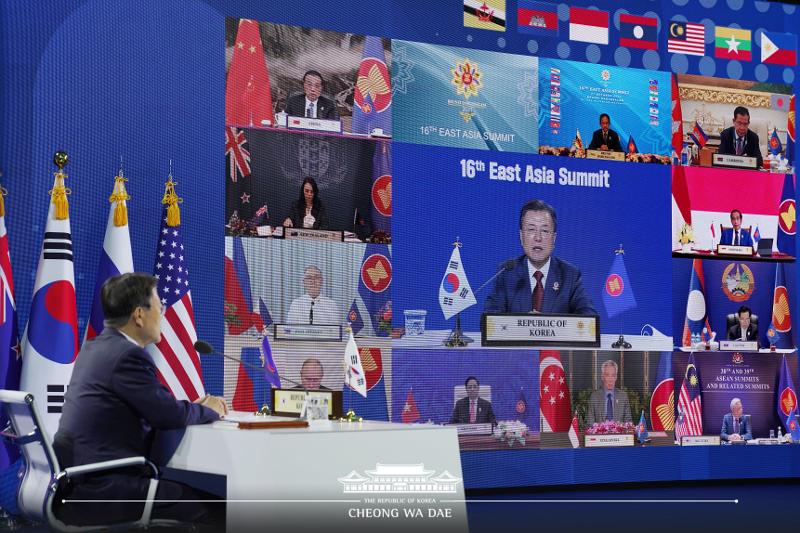 The chief executive on Oct. 27 attended online the 16th East Asia Summit (EAS) and discussed global issues such as the denuclearization of the Korean Peninsula, COVID-19 and climate change with the leaders of the U.S., China, Japan and the 10 member states of the Association of Southeast Asian Nations (ASEAN).
The summit is a regional forum comprised of 18 nations including those in ASEAN, Korea, China, Japan, the U.S. and Russia.
At the EAS, President Moon said, "The 'end-of-war declaration' that I proposed at the last U.N. General Assembly will open the doors to dialogue and mark a pivotal point of departure in shaping peace not only on the Korean Peninsula and in Asia, but also around the world. I look forward to the EAS members' unwavering support and encouragement."
"Representing 54% of the world's population and 62% of its GDP, East Asia, when united, will greatly contribute to international solidarity and cooperation in our fight against COVID-19 and the climate crisis," he added. "To turn these crises into opportunities, I hope this East Asia Summit will have us standing together in stronger solidarity."
"To build back better, social stability and economic vitality must be quickly restored. Today, we agreed to adopt the Leaders' Statement on Mental Health Cooperation and the Leaders' Statement on Economic Growth through the Tourism Industry to further solidify our healthcare- and economy-related collaboration. Korea, too, will actively play its part."
"Korea has participated as one of the co-sponsors of the Leaders' Statement on Sustainable Recovery that we are adopting today," he said. "I hope that the EAS member countries will more actively galvanize their commitments toward transitioning to a low-carbon economy."
At the 24th virtual ASEAN+3 (Korea, China and Japan) Summit on the same day, the president urged "unwavering interest and support" on the path to a peaceful peninsula and a prosperous East Asia, including for the declaration to end the Korean War, which he called "the beginning of reconciliation and cooperation."
Based on the ASEAN-Korea free trade agreement and Regional Comprehensive Economic Partnership (RCEP), Korea expects to jointly reinforce supply chains and continue economic growth with ASEAN, he said, adding, "We are determined to do everything we can to ratify the RCEP within this year."
President Moon also said his country will "cooperate actively for inclusive and sustainable growth as well," adding, "Korea will scale up its official development assistance especially in the areas of climate change responses, digitalization and healthcare to stand together with ASEAN as it transitions to a digital economy and tackles the climate crisis."