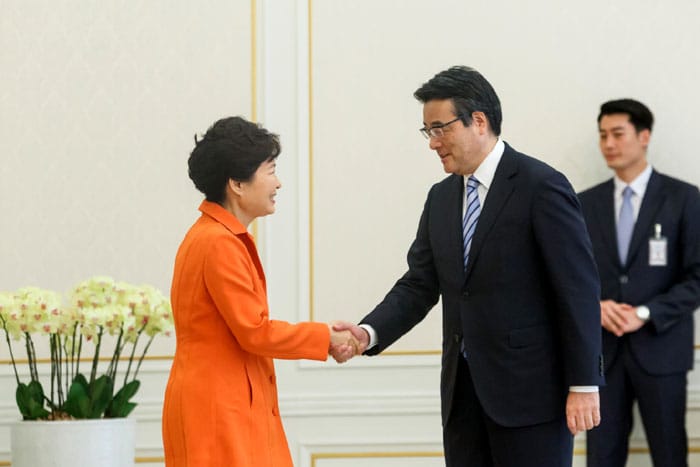 President Park Geun-hye met with Japan's Democratic Party President Katsuya Okada to discuss measures to boost cooperation and exchanges between Korea and Japan on August 3 in Seoul.
President Park greeted the Japanese opposition leader by saying, "To mark the 50th anniversary of the normalization of the Korea-Japan diplomatic relationship, let's make 2015 the first year to make a leap forward in our bilateral ties."
In regard to the issue of the so-called "comfort women" victims, President Park said to the Japanese politician that, "Both countries have been making diplomatic efforts. If we pursue a solution in a desirable way, it would also have a remarkably good influence on making the Korea-Japan relationship into a stable one."
Regarding the speech by Japanese Prime Minister Shinzo Abe that he will give to mark the 70th anniversary of the end of World War II, she said, "If Prime Minister Abe's address succeeds in properly recognizing history, as those by former Japanese leaders Kono and Murayama did, it will serve as a substantial foundation for the future of both countries."
Democratic Party President Katsuya Okada told President Park that, "Both Korean and Japanese leaders should hold a summit meeting without conditions."
"As the leader of the Japanese opposition party, I will make every effort in order to lead our bilateral relations in a better way," he added.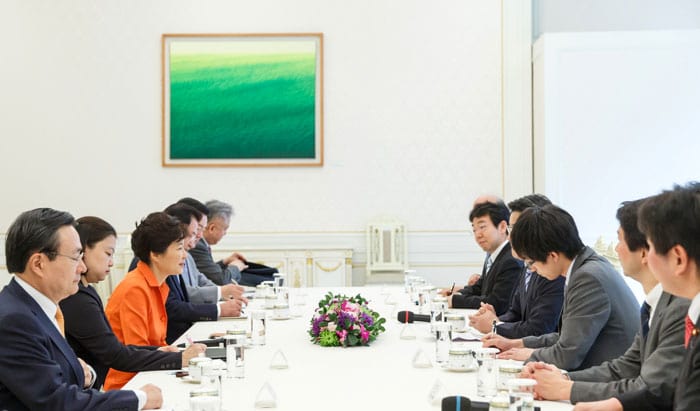 By Yoon Sojung
Korea.net Staff Writer
Photos: Cheong Wa Dae
[email protected]