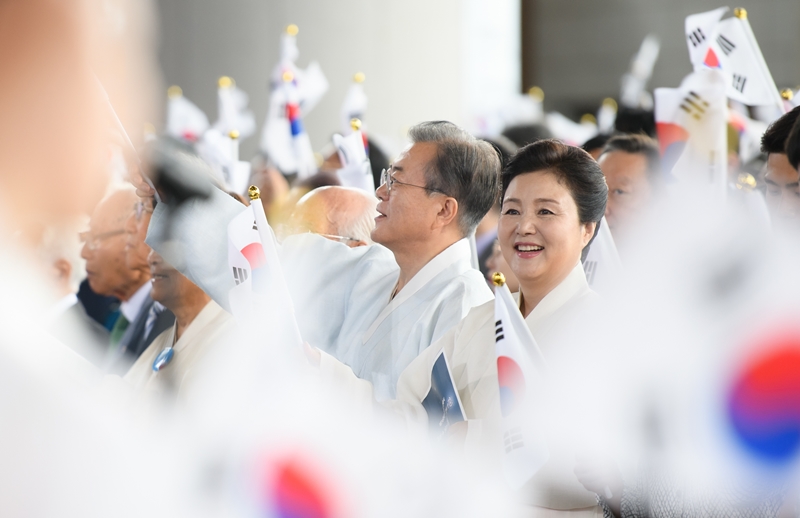 By Kim Eun-young and Lee Jihae 
President Moon Jae-in on Aug. 15 gave a celebratory speech marking Korea's 74th National Liberation Day in which he expressed his goal of a reunified Korean Peninsula by 2045, the centenary of national liberation.
He also stressed the need for Korea to play the role of "bridge nation" to connect nations in East Asia and the importance of inter-Korean economic cooperation to achieve this goal.
President Moon minced no words in mentioning Japan's recent export sanctions on Korea, saying, "The world has achieved common prosperity through a highly sophisticated division of labor. Japan has made progress by engaging in the division of labor through the platform of the free trade order as well."
"If a country weaponizes its comparative advantage, it will evidently disrupt the peaceful free trade order."
He added, "We will stand against Japan's unwarranted export restrictions and march forward toward becoming a responsible economic powerhouse."
He thus made it clear that Japan's delisting of Korea from a group of preferential trading partners and overall economic retaliation are unjust, as well as his intent to turn the trade row into an opportunity to hone Korea's economic strength.
"We will jointly build an East Asia in which nations conduct fair trade and cooperate with one another," he said.
"Late is better than never. If Japan opts to come forward for dialogue and cooperation, we will gladly join."
President Moon is pushing for more domestic production of material components that the country had imported from Japan. He left open, however, the possibility of negotiations with Tokyo.
The president also expressed confidence that the nation will serve as a bridge nation leading Northeast Asia, saying, "With strength, we will become a country that connects the continent to the ocean. We will lead peace and prosperity in Northeast Asia."
On inter-Korean ties, the president said peace and reunification will boost business growth on both sides of the peninsula and solve social problems (in South Korea) such as low economic growth, low birthrate and a rapidly aging society, he said. He also said he will pursue a peace economy while walking on the path toward reunification, a goal that can spur significant economic growth.
"We will pour everything we have into the inter-Korean peace economy and open the doors of a new Korean Peninsula," he added.
"Connecting severed inter-Korean railways and roads will be the first step."
Wearing a white traditional Korean overcoat and tightly clenching his fist, President Moon said, "A new Korean Peninsula that leads world peace and prosperity awaits."
"We can do it."
President Moon Jae-in's speech at the Independence Hall of Korea to commemorate the 74th anniversary of Korea's national liberation can be found below:
http://www.korea.net/Government/Briefing-Room/Presidential-Speeches/view?articleId=174175&pageIndex=1