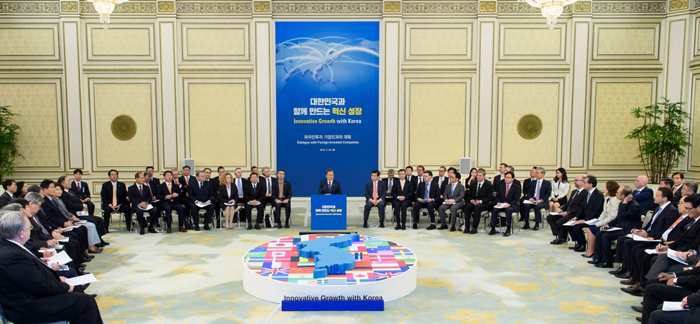 By Kim Minji 
President Moon Jae-in, in a March 28 meeting with representatives from foreign-invested companies, asked for their "unwavering support" for the Korean economy.
At Yeongbingwan Guest House of Cheong Wa Dae, he discussed in the event titled "Innovative Growth with Korea" development of future-oriented relations with such companies and listened to their complaints.
Attending by representatives from 56 foreign-invested companies and nine business associations and organizations, the meeting was the president's first with business leaders from such companies since he took office in May 2017.
"You are already an important axis to our economy," he said, thanking the companies for contributing to Korea's economic development by creating jobs and invigorating industries.
"To create more examples of (positive) models and keep steady investment, the administration and local governments will give their full support," he added.
To assist such companies, the president also pledged stronger incentives for investment and recommended the so-called regulatory sandbox program, which exempts regulation for promising and burgeoning sectors.
Cheong Wa Dae said all the ideas brought up in the meeting will be examined and implemented.