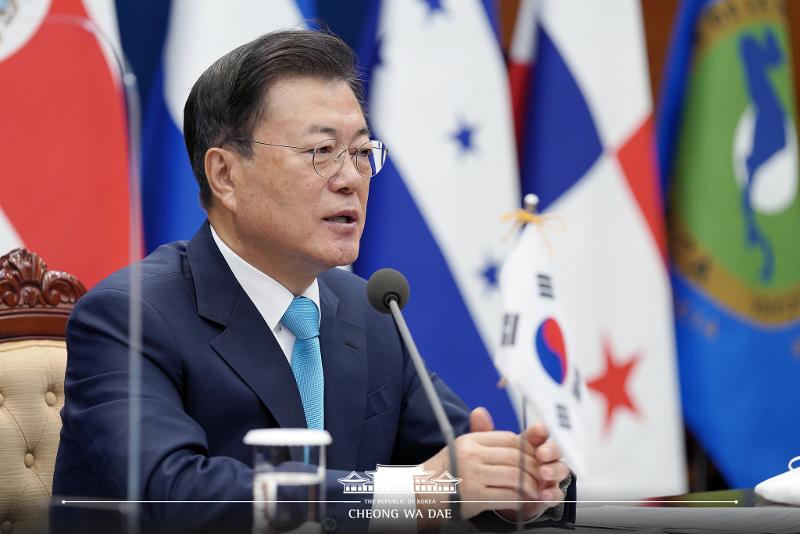 By Kim Eun-young and Lee Jihae
President Moon Jae-in on June 25 held an online summit with member states of SICA, or the Central American Integration System, and agreed on a plan to form a comprehensive cooperative relationship between both sides.
Comprising eight Central American countries — Costa Rica, Belize, the Dominican Republic, El Salvador, Guatemala, Honduras, Nicaragua and Panama — SICA was launched in 1991 as a consultative group to integrate its member states for the development of politics, economy, society and culture.
As the first summit between Korea and SICA since 2010, the talks were also the Moon administration's first multilateral dialogue with Central America.
Leaders of the eight member states and SICA General Secretary Vinicio Cerezo attended the summit. President Moon was invited to the event by Costa Rican President Carlos Alvarado Quesada, whose country is the group's rotating chair.
President Moon agreed with SICA on the importance of bilateral cooperation in green and digital transitions for overcoming the COVID-19 pandemic and achieving economic recovery and sustainable economic development.
The member states also thanked Korea for sharing its epidemic prevention and control supplies. President Moon also pledged to help developing countries procure vaccines.
The leaders adopted a joint statement on boosting bilateral exchanges and denuclearizing the Korean Peninsula.
They also agreed to form comprehensive cooperative relations in response to climate change and the COVID-19 pandemic and to prepare for the Fourth Industrial Revolution. They stressed the importance of the Korea-Central America free trade agreement that took effect in March, and agreed to consider other SICA member states like Guatemala as additional signatories to this accord.
Both sides also discussed redeveloping a Korea-SICA cooperative fund and expanding official development assistance, which includes aid of USD 220 million to El Salvador, Guatemala and Honduras pledged by Seoul last month at the Korea-U.S. summit in Washington.
The joint statement said SICA member states will continue supporting the Korean government's efforts for the complete denuclearization of and a permanent peace on the Korean Peninsula, as well as stressing the importance of inter-Korean dialogue, engagement and cooperation.