President Moon becomes 1st Korean leader to visit Austria
Jun 14, 2021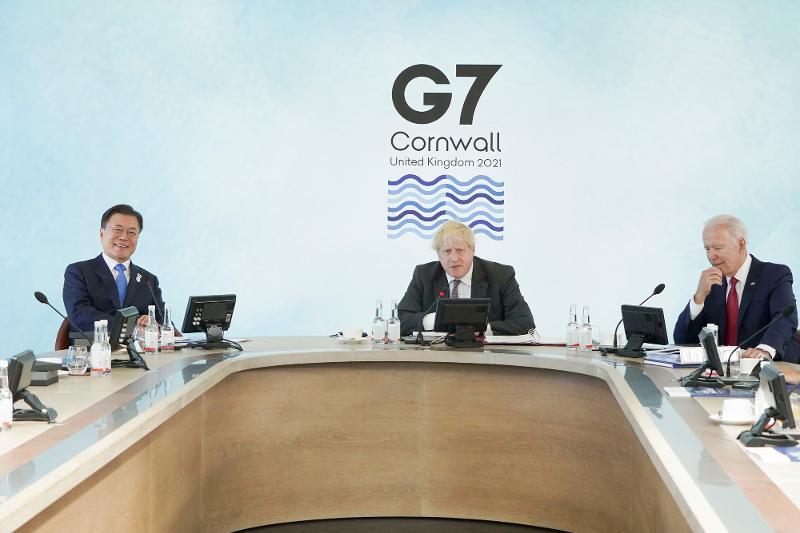 By Kim Eun-young and Yoon Sojung
Photos = Cheong Wa Dae's official Facebook page
President Moon Jae-in on the afternoon of June 13 arrived in Austria, the second leg of his three-nation European tour.
His state visit to Austria was at the invitation of Austrian President Alexander Van der Bellen, making President Moon the first Korean leader to visit there since both countries forged diplomatic relations in 1892.
During his three-day visit to Vienna, President Moon will hold summit talks with President Van der Bellen and Austrian Chancellor Sebastian Kurz.
Before leaving for Austria, President Moon held a bilateral summit with British Prime Minister Boris Johnson and an informal meeting with French President Emmanuel Macron at the G7 summit venue in Cornwall, the U.K.
President Moon and Prime Minister Johnson agreed on the need for an equal supply of COVID-19 vaccines and to extend cooperation in research and development. Both leaders hailed their bilateral free trade agreement that took effect in January and decided to boost economic cooperation based on the accord in various sectors including trade and investment.
In their informal meeting, Presidents Moon and Macron agreed on the peace process for the Korean Peninsula and the bolstering of cooperation in sectors such as cutting-edge core technology, health care and energy.
At the G7 summit, President Moon reaffirmed his commitment to achieving carbon neutrality by 2050 and discussed concrete measures to that end.
In the extended G7 meeting on climate change and the environment earlier that day, President Moon reaffirmed his intent to further upgrade Korea's goal of reducing CO2 emissions by 2030. He added that his administration is realizing a smart climate transition through digital technology based on the Korean New Deal.
The participating leaders at the summit discussed actions to limit global warming to 1.5 degrees Celsius by achieving carbon neutrality by 2050 through emission reduction measures like an end to the use of coal and expanded implementation of clean and renewable energy.
They also agreed to conserve 30% of the world's land and 30% of the oceans by 2030.
In a joint communique adopted at the summit, the G7 leaders agreed to provide a billion doses of COVID-19 vaccines worldwide through the end of next year, raise vaccine contributions by lifting exports limits on vaccines and work with other countries for this purpose.