By Kim Minji 
Photos = Cheong Wa Dae
President Moon Jae-in on April 21 presided over at Nursultan International Airport a repatriation ceremony for the remains of Korean independence fighters who had been buried in Kazakhstan.
The bilateral repatriation project began in 2017 to prepare for the commemoration this year of the centennial anniversary of Korea's March First Independence Movement of 1919 and the establishment of the Korean Provisional Government.
The remains to be returned are of Gye Bong-woo, a member of the provisional government's assembly, independence soldier Hwang Woon-jeong and their wives.
As the first Korean head of state to host such a ceremony abroad, President Moon posthumously awarded the Order of Merit for National Foundation to both activists — Gye the Independence Medal (third highest level of the order) and Hwang the National Medal (fifth) – and said, "We can never forget how much independence fighters sacrificed and devoted themselves to make Korea what it is today," adding, "We will honor our independence patriots who were buried far from their homeland and repay them with our highest respect."
"Remembering each independence fighter arouses the pride and self-esteem within us. This is the way to gain the power to open a new future."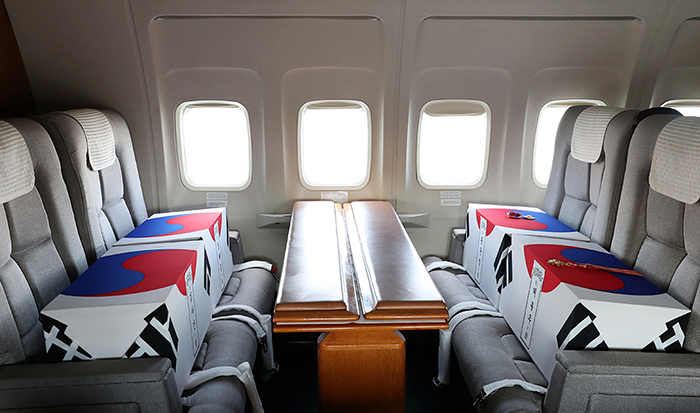 Gye's granddaughter expressed her gratitude by saying, "My grandfather longed to return to his homeland and now that his wish has been granted, we're very happy for him."