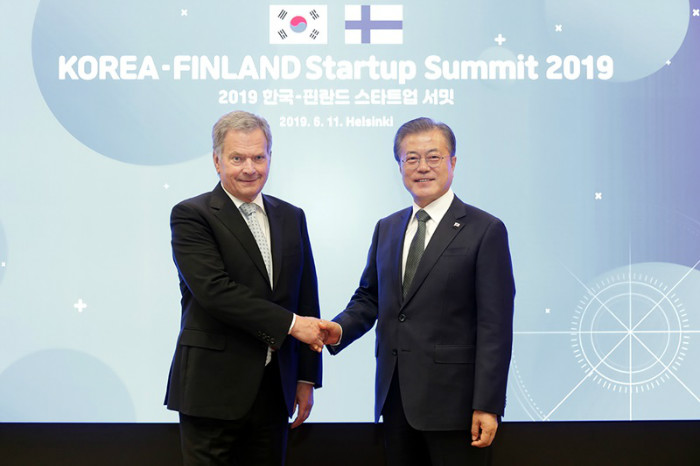 By Song Baleun and Lee Jihae 
Photos = Cheong Wa Dae
President Moon Jae-in on June 11 said at the Korea-Finland Startup Summit in Helsinki, "I strongly believe that cooperation between the two countries will strengthen through innovation."
Speaking to about 200 entrepreneurs from both nations, President Moon, on the first leg of his three-nation Northern European tour, said, "Finland became a leading nation for startups due to its innovation." He mentioned how Finnish telecom giant Nokia overcame a major crisis to reemerge as an industry powerhouse.
"Such changes Finland has undergone are serving as an inspiration for Korea, whose economy is centered on conglomerates," he said.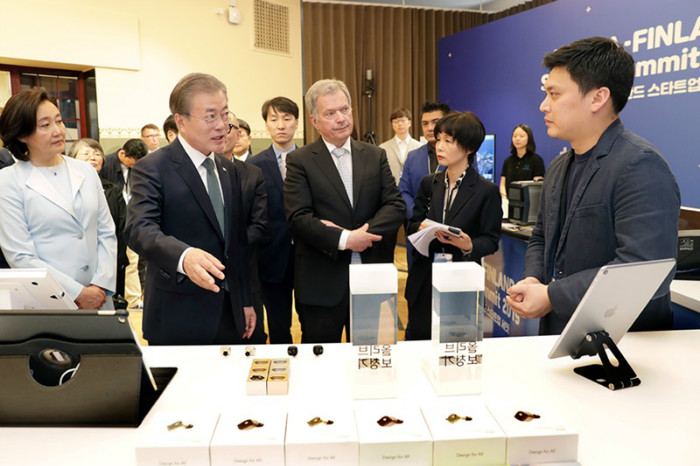 Saying bilateral trade increased 32% last year, President Moon said the two countries will further cooperate in establishing a startup ecosystem and managing sectors related to the Fourth Industrial Revolution, such as 5G and artificial intelligence.
In a meeting with Finnish Prime Minister Anttie Rinne, President Moon also agreed to expand cooperation in new industries such as startups, small and medium venture companies, next-generation telecommunication networks like 6G, health and energy.
President Moon on June 11 departed for a three-day state visit to Norway.