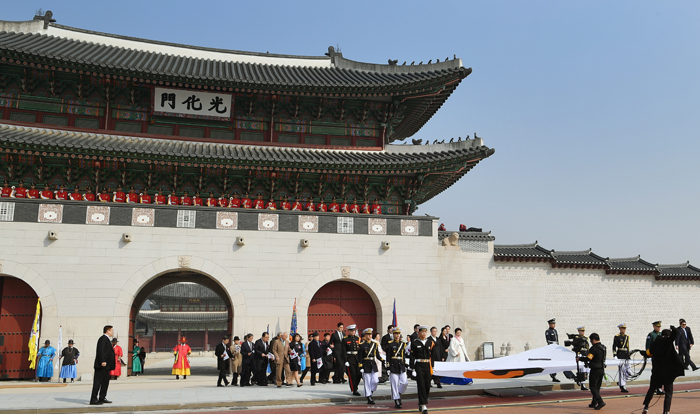 By Jeon Han and Lee Hana
Photos = Jeon Han, Hyoja-dong Studio
Seoul | March 1, 2019
A ceremony to mark the centennial anniversary of the March First Independence Movement against Japanese colonial rule was held at Seoul's Gwanghwamun Square on March 1.
President Moon Jae-in and first lady Kim Jung-sook joined 33 civic group leaders and some 10,000 guests at the event.
"We lived through the past 100 years, hoping to build a fair and just country that strives for humanity's peace and freedom," said President Moon.
"The next 100 years will be the time to build a greater nation for our people, without being pushed around by past ideologies. The next century will unite us in heart and mind."
Also at the ceremony, a Republic of Korea Medal, the country's highest order of merit, was awarded to Korean independence activist Yu Gwan-sun (Dec. 16, 1902 – Sept. 28, 1920).
President Moon's full speech can be found at the link below.
http://www.korea.net/Government/Briefing-Room/Presidential-Speeches/view?articleId=168681&pageIndex=1