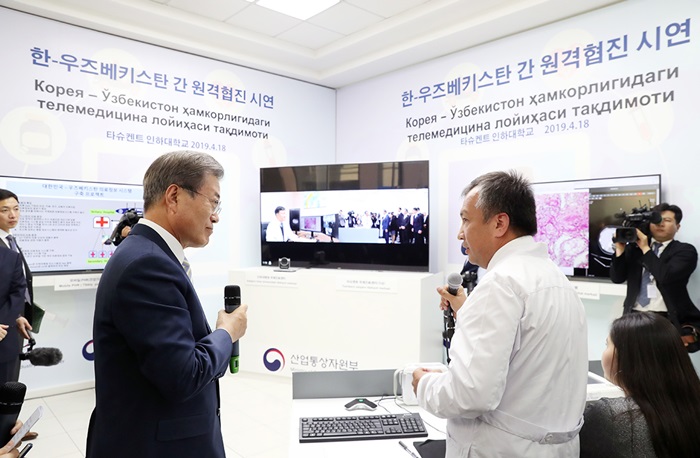 By Lee Kyoung Mi and Lee Jihae
President Moon Jae-in on April 18 arrived in Uzbekistan, where he visited Inha University's campus in Tashkent to see Uzbek and Korean medical teams jointly demonstrating telemedicine.
This event was designed for Korea to outsource its digital health care industry and improve Uzbekistan's medical services. The Uzbek medical industry seeks to incorporate Korea's digital health care, which features cutting-edge medical services and information and communications technology.
The two medical teams used X-rays and electrocardiography to check Uzbek patients who had returned to their homeland after receiving medical treatment from Inha University in the Korean port city of Incheon.
In his congratulatory remarks, President Moon said, "Uzbekistan has an ideal environment for health and medical cooperation between the two countries. We hope that this cooperation enhances the lives of people in both countries and expand to other Central Asian countries as well."
"E-health is one of the world's most promising sectors. I hope Uzbekistan and Korea can become strategic partners to advance the Fourth Industrial Revolution in medicine."
President Moon on April 19 will hold a summit with Uzbek President Shavkat Mirziyoyev on improving bilateral ties and devising cooperative measures for peace and prosperity on the Korean Peninsula and in Central Asia. He will also be the first Korean president to give a speech at the Uzbek parliament, where he will discuss the goals of his New Northern Policy.
The next day, President Moon will attend the opening ceremony for the House of Korean Culture and Art, which the ethnic Korean community in Uzbekistan played an integral role in building. He is also slated to visit museums in Samarkand and ancient cultural heritage sites during his stay.