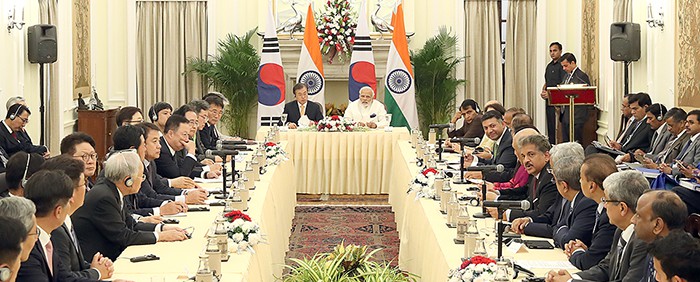 By Lee Hana
Photos = Cheong Wa Dae
During his state visit to India, President Moon Jae-in attended a roundtable for Korean and Indian CEOs alongside Indian Prime Minister Narendra Modi, in New Delhi on July 10.
The conference was attended by the heads of 24 businesses — 12 from each country — including Chairman Park Yongmaan of the Korea Chamber of Commerce and Industry (KCCI) and President of the Federation of Indian Chambers of Commerce & Industry (FICCI) Rashesh Shah.
It was an opportunity for the CEOs to share their corporate visions, and to voice opinions directly to the two heads of state.
"We hope to use these conferences as a means to create a direct communication channel with the government that also monitors the progress of our terms of agreement. As a result of today's meeting, corporations from the two countries have agreed to set up five working groups, execute a joint project, and hold meetings for CEOs on a regular basis," said Chairman Park.
"For our two countries, sectors such as automobiles, electronics, infrastructure, the defense industry, manufacturing, shipbuilding and renewable energy will become the driving forces of our cooperation. We also hope to expand our partnership into areas such as artificial intelligence (AI), the Internet of Things (IoT), robotics and green technologies," said President Shah.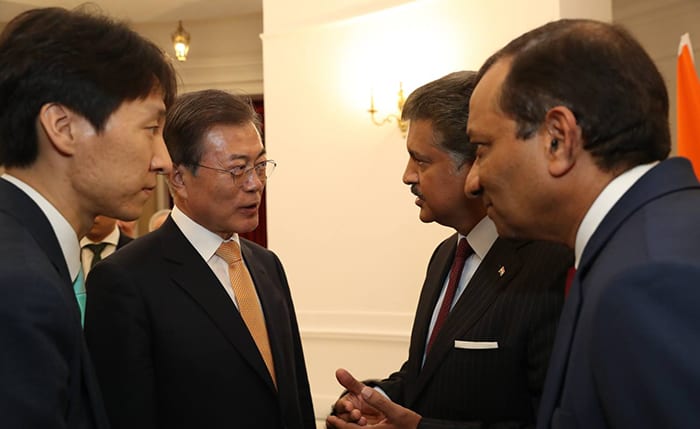 While at the conference, President Moon showed concern for the difficulties faced by workers, specifically in reference to former workers at Ssangyong Motors who are still waiting to be reinstated after the company was acquired by Mahindra Group.
President Moon met with Anand Mahindra, the CEO of Mahindra Group, and asked if the CEO had experienced any problems while conducting business in Korea. The president said, "The issue of reinstating formerly let go workers at Ssangyong has been settled between labor and management, but still remains unresolved," and asked that the CEO kindly take note of the issue.
To this, Mahindra replied that he trusts his board of directors, out in the field, that it will properly and sufficiently address this issue.