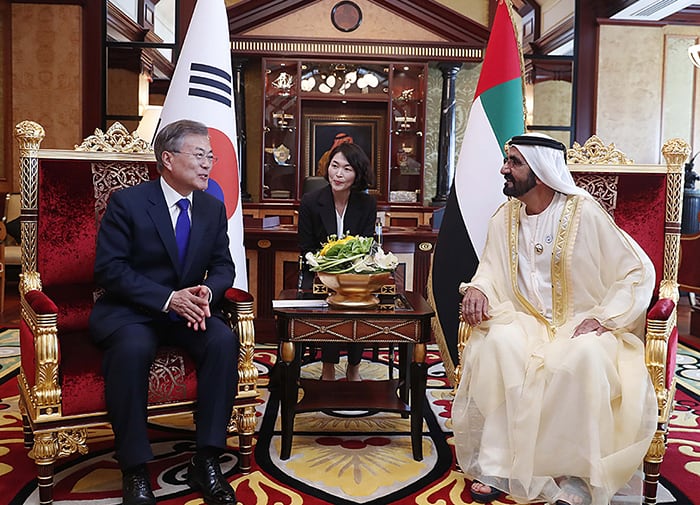 By Sohn JiAe
Photos = Cheong Wa Dae
President Moon Jae-in met with Prime Minister of the United Arab Emirates (UAE) and ruler of the Emirate of Dubai Mohammed bin Rashid Al-Maktoum, in Dubai on March 27. The two leaders agreed to further enhance the already reciprocal and future-oriented bilateral relationship that exists between their two polities.
President Moon said that his official visit to the UAE came at the right time, when both sides could come up with ways to bring Korea-Dubai ties to a whole new level, as both governments were pursuing innovation and openness.
In response, the Dubai leader said that as Korea and the UAE agreed to upgrade their relationship to a "special strategic partnership," Korea and Dubai should begin in earnest in-depth discussions on more substantive cooperation between the two countries.
Mentioning the Dubai Expo 2020, the first expo of its kind in the Middle East, President Moon said that, "We'll establish a Korea Pavilion so as to help the expo be successful." The president pointed out that the number of Koreans visiting the UAE in 2017 alone surpassed 200,000, saying that, "We need to increase such human-to-human exchanges. In this sense, more students studying in each other's countries to learn about their traditions and languages would help a lot in terms of bilateral ties."
The Dubai ruler said that, "It's encouraging and welcoming to have Korean students here learning about our traditions and heritage. Hopefully, more Emirati students, too, will travel to Korea in order to have a better understanding of the country."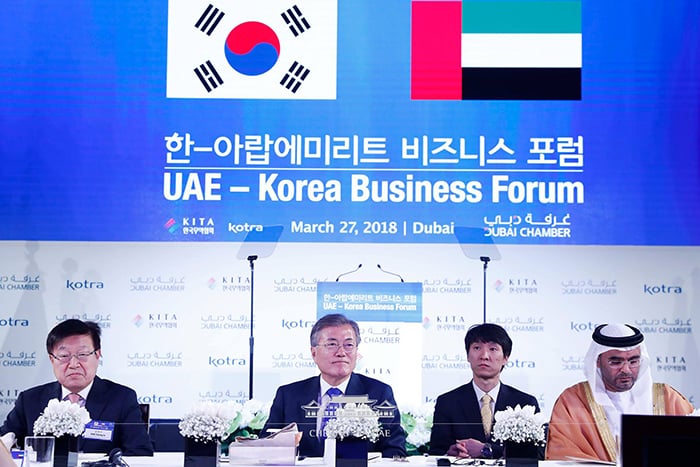 Following the talks, President Moon attended the UAE-Korea Business Forum to talk with more than 300 entrepreneurs from both counties about issues involving renewable energy, IT, healthcare, financing, heritage and education.
In a keynote speech, the president said that around 170 Korean companies are actively engaged in economic development across the UAE, and he stressed that Korea and the UAE have continued their friendship and brotherhood, as both have cooperated across industries that have different underlying fundamentals.
President Moon said that he hopes that bilateral economic cooperation would become future-oriented by expanding into new industries, like semiconductors, ship building and space development, and into jointly making inroads into third countries.
jiae5853@korea.kr