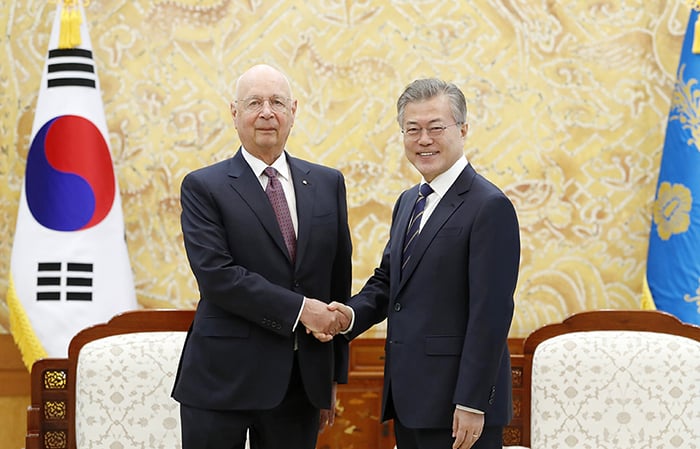 By Sohn JiAe
President Moon Jae-in met with Executive Chairman Klaus Schwab of the World Economic Forum (WEF) on April 11 to share his opinions on global issues, including North Korea.
President Moon expressed his gratitude that issues concerning the Korean Peninsula were discussed at the WEF's annual general meeting in Davos in January, which he couldn't attend due to the PyeongChang 2018 Olympic and Paralympic Winter Games.
The WEF founder expressed his hope to invite President Moon to next year's Davos Forum, saying that, "Korea will be at the center of all the talks that will unfold at next year's forum."
Schwab also welcomed inter-Korean dialog that has gotten much more active over recent months and promised the WEB's full support in the making of the historic talks.
"North Korean issues will become more important in the end, in terms of economic aspects, and achieving economic stability in Pyongyang is a crucial task for us to undertake. In that sense, the WEF will give its full support, too," he stressed.
Mentioning the WEF leader's worldwide bestselling book "The Fourth Industrial Revolution," President Moon said that, "Our new government is also setting up a 'people-centered' fourth industrial revolution as one of our core goals for national innovative growth, but we're still lacking in many things to carry out that goal." He then asked Schwab for good advice as an expert in this field.
In response, Schwab said that, "About one million copies of my book have been sold globally and as many as 300,000 copies have been sold here in Korea. This shows how highly Korean people are interested in the fourth industrial revolution."