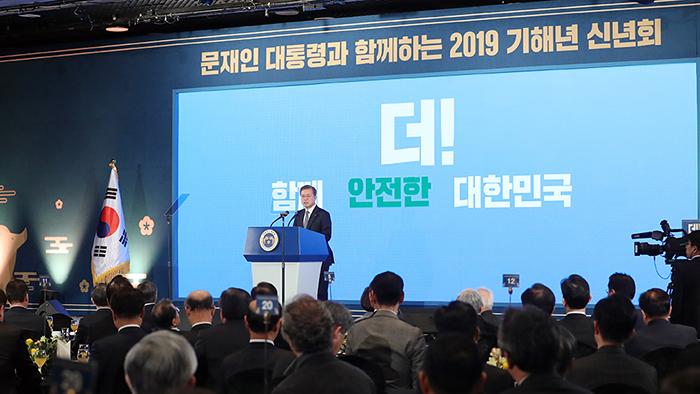 By Kim Young Shin

President Moon Jae-in on Jan. 2 stressed the importance of innovation for the well-being of everyone in society at a New Year's reception held at the Korean Federation of Small and Medium Business in Seoul.
"The year 2018 was a time when the administration set up the direction of its policies and shaped the system to transform our economy and society into a larger scheme," he said "We will try to make 2019 the first year in the establishment of a society in which all members are better off by jointly overcoming inequality and improving their lives."
The president specifically mentioned tackling low growth and balancing domestic and international consumption as core tasks to achieve such a society.
"We need innovation that creates value and an industrial policy to overcome the structural limits of Korea's economy," he added.
"There should be innovation to improve economic vitality and achieve a breakthrough to overcome low growth."
The president pledged to set up 30,000 smart factories, build smart industrial complexes and cities, create jobs befitting the era of the Fourth Industrial Revolution and support corporate investment.
He also stressed the crucial role of peace in stimulating economic growth, saying, "Once complete denuclearization and lasting peace are settled on the Korean Peninsula, a new era of peace and prosperity will begin."
"We will implement new economic plans for the Korean Peninsula, connect railroads northward connecting us with Russia and other European countries, and organize new ties of peace and prosperity southward with ASEAN (Association of Southeast Asian Nations) countries and India," he said. "We will certainly accelerate the time when peace benefits our economy."
Click the link below to read the full text of the speech:
http://www.korea.net/Government/Briefing-Room/Presidential-Speeches/view?articleId=166892&pageIndex=1 
ysk1111@korea.kr