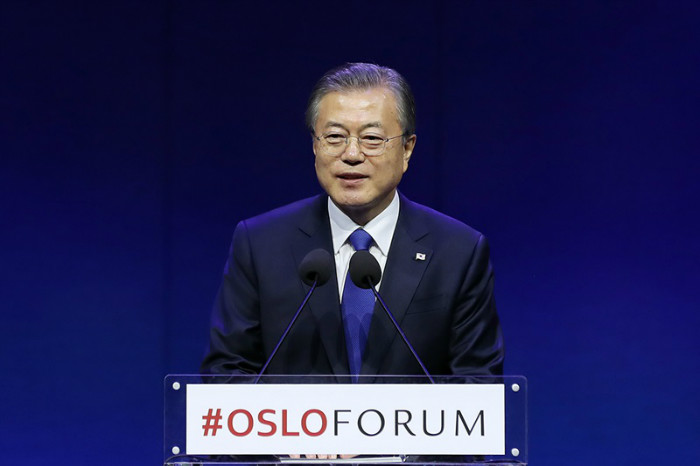 By Oh Hyun Woo and Kim Hwaya
Photos = Cheong Wa Dae
President Moon Jae-in on June 12 explained the peace process on the Korean Peninsula during the Oslo Forum at the University of Oslo in Norway, saying "structural violence" due to the peninsula's division should be resolved through "positive peace."
On a state visit to the Scandinavian country, the president mentioned the three inter-Korean summits held under his administration, starting with his 2017 Berlin speech in which he proposed a new peace initiative for the peninsula. "Recently, the peace process on the Korean Peninsula has been underway to bring fundamental changes in the peninsula's security situation through the determination of the leaders of the two Koreas and the U.S.," he said.
What the two Koreans need now is not a new vision or proclamation, he said, but the deepening of mutual understanding and trust, adding, "Real peace is one that is mutually beneficial."
To support his point, the president cited the example of the "permanent legations" laid out in the German Basic Treaty of 1972.
"East and West Germany took advantage of these permanent legations to make swift and joint responses to fires, floods, landslides, infectious diseases, insect damage and water contamination occurring in border areas," he said, adding, "I hope that this example can be also applied to the Korean Peninsula to foster the people's concrete hope for peace."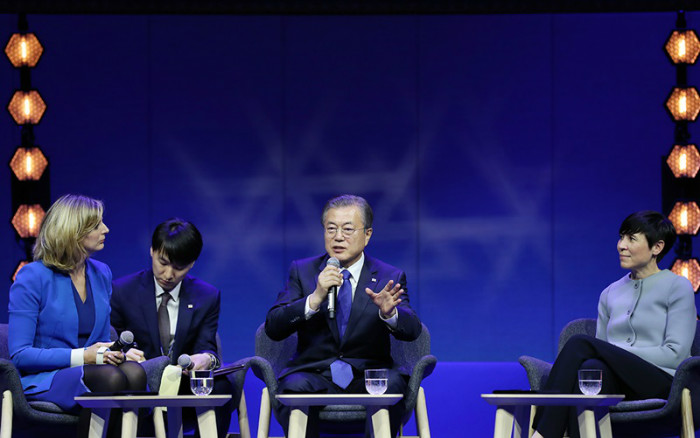 President Moon also emphasized the need for dialogue among the leaders of the two Koreas and the U.S. In a Q&A session after his speech, the BBC's Seoul correspondent Laura Bicker asked if he could hold talks with North Korean leader Kim Jong Un before Trump's scheduled visit to Seoul in late June, to which President Moon said, "If possible, I think a meeting with Kim is desirable before Trump's trip to (South) Korea," adding, "I am urging a meeting between the leaders of the North and the U.S. as soon as possible."