By Sohn JiAe
Photos = Cheong Wa Dae
President Moon Jae-in welcomed five newambassadors to Korea from Kyrgyzstan, Senegal, Egypt, Bangladesh and Turkey atCheong Wa Dae on Jan. 31.
President Moon received letters of credentialsfrom Kyrgyzstani Ambassador Kylychbek Sultan, Senegalese Ambassador MamadouGueye Faye, Egyptian Ambassador Hazem Fahmy, Bangladesh Ambassador Abida Islamand Turkish Ambassador Ersin Ercin.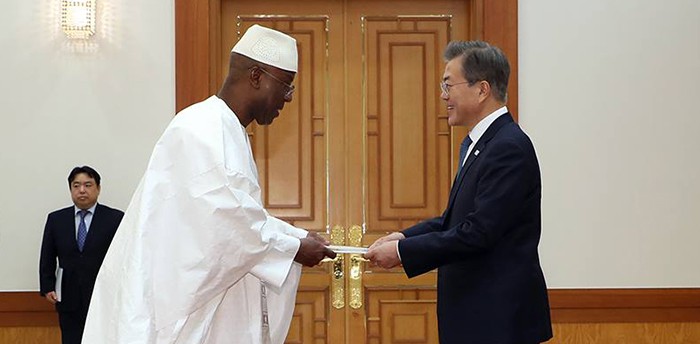 To the Kyrgyzstani ambassador, PresidentMoon stressed the importance of the Bishkek government's cooperation on the NewNorthern Policy (신新북방정책) and on a program to enhanceelection capabilities across the region, both projects on which the Koreangovernment is working. The president said to the Senegalese ambassador that hehoped bilateral cooperation on business, development and defense supplies wouldfurther grow.
President Moon asked the Egyptianambassador to expand reciprocal trade, as he urged that more investment be madeinto Korean firms that work across the region.
To the Bangladeshi ambassador, thepresident hoped that the two countries would work as crucial cooperativepartners in pushing ahead with the New Southern Policy (신新남방정책) in South Asia and Southeast Asia.
Lastly, President Moon emphasize to theTurkish ambassador that the ongoing construction of the Canakkale SuspensionBridge, the longest in the world, currently being undertaken by companies from bothnations, would serve as a new milestone in bilateral ties.