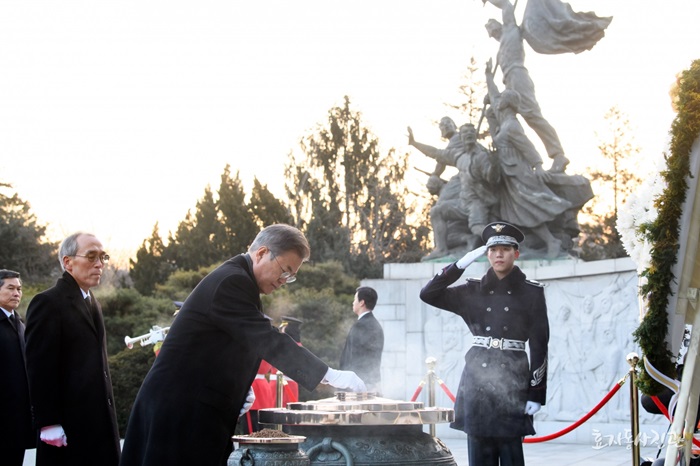 By Kim Young Deok and Yoon Sojung
President Moon Jae-in on Jan. 2 began his first official schedule of 2019 by visiting Seoul National Cemetery in the Dongjak-gu district of the capital, paying his respects to the patriots buried there.
Arriving at 8 a.m. at Memorial Tower to lay the wreath, he burned incense and paid a silent tribute.
On the cemetery guestbook, the president wrote "For a new century of the Republic of Korea, a country where everyone can prosper together in 2019," and added his autograph.
This year marks the centennial anniversary of the March First Independence Movement in 1919 and the establishment of the Korean government in exile.
President Moon on Jan. 1 had emphasized the meaning of the anniversary while hiking up a mountain with six people receiving national honors to see the year's first sunrise. He also stressed the same when calling selected exemplary citizens on the phone to express New Year's greetings.
Accompanying the president to the cemetery were 20 leading government officials including Prime Minister Lee Nak-yon and other Cabinet members, Presidential Chief of Staff Im Jong-seok and National Security Director Chung Eui-yong.
kyd1991@korea.kr