Cheong Wa Dae on May 25 released photos of President Moon Jae-in's three-night, five-day working visit to the U.S., including those of the Korea-U.S. summit. Key moments of the chief executive's trip included his first face-to-face meeting with U.S. President Joe Biden, their one-on-one talks, a joint news conference, President Moon's visit to Arlington National Cemetery, a Korean-U.S. business roundtable and a talk with congressional leaders. President Moon referred to both his visit and the Korea-U.S. summit as "the best."
By Lee Kyoung Mi and Lee Jihae
Photos = Cheong Wa Dae's official Facebook page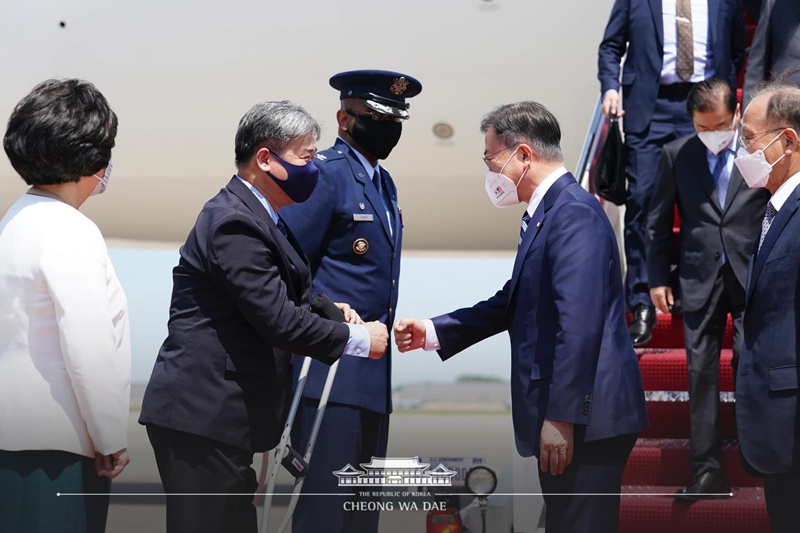 President Moon Jae-in on May 19 arrived at Andrews Air Force Base near Washington. He shook hands with acting U.S. Chief of Protocol Asel Roberts, Korean Ambassador to the U.S. Lee Soo Hyuck, and Steve Lee, head of the Korean American Association of Greater Washington, who came out to greet him.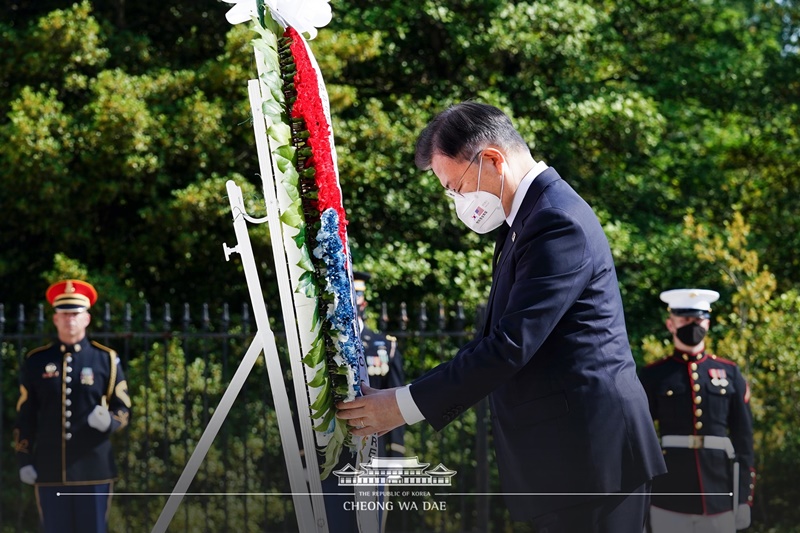 President Moon Jae-in on May 20 lays a wreath at the Tomb of the Unknown Soldier to honor veterans of the Korean War at Arlington National Cemetery in Virginia. He paid his respects to all soldiers who fought for freedom and peace on foreign soil, especially American soldiers who gave their lives during the war to protect Korea's freedom and democracy.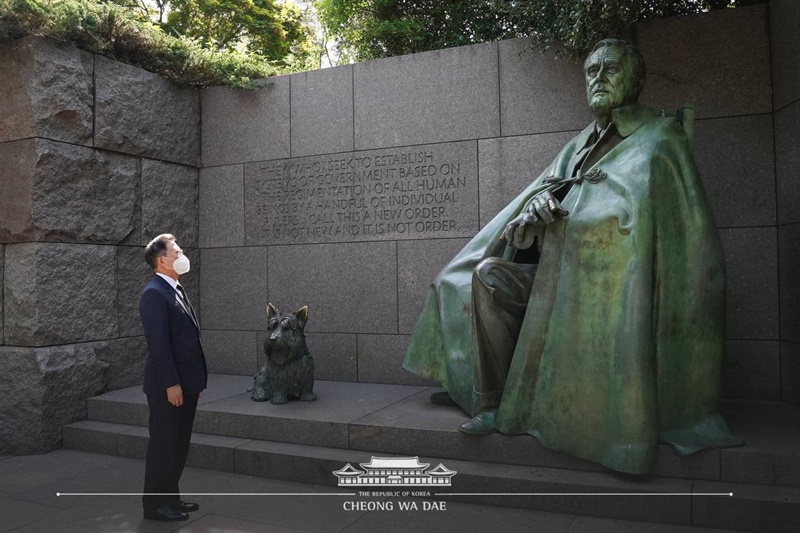 President Moon Jae-in on May 20 visits the Franklin Delano Roosevelt Memorial right after his visit to Arlington National Cemetery. The 32nd U.S. president overcame the Great Depression through his New Deal policies, and Cheong Wa Dae said President Moon through the visit sought to convey his intent to overcome the COVID-19 crisis and implement the Korean New Deal.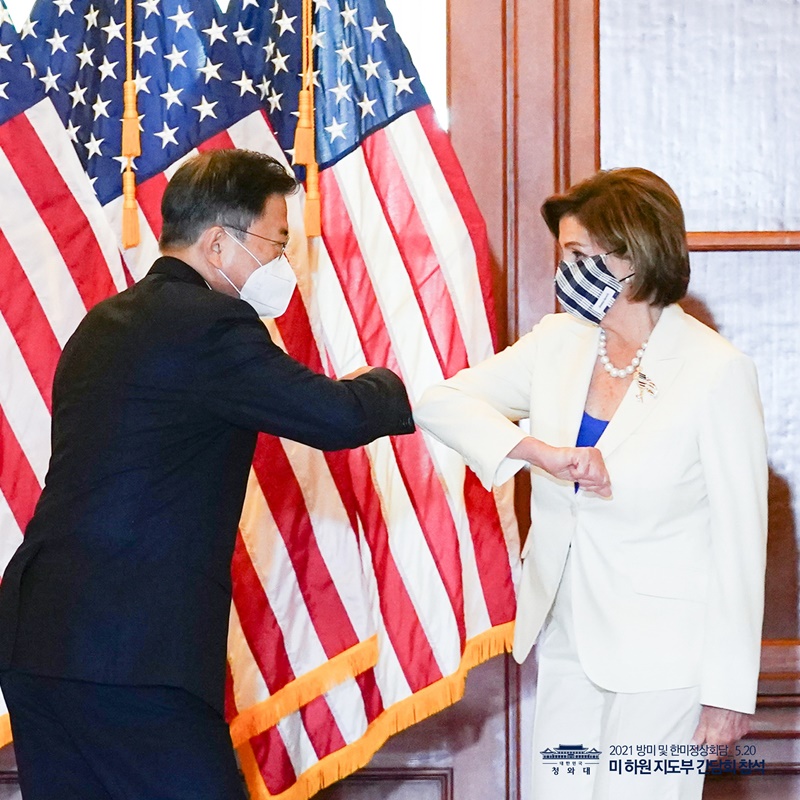 President Moon Jae-in on May 20 does an elbow bump to greet Speaker of the House Nancy Pelosi. His visit to Capitol Hill in Washington featured discussion of pending issues with members of Congress.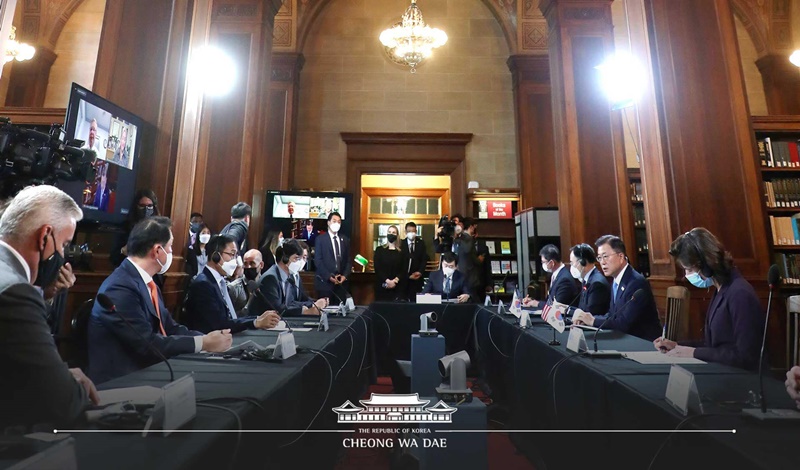 President Moon Jae-in, on the third day of his U.S. visit on May 21, attends a business roundtable at the U.S. Department of Commerce with Korean and U.S. executives in core industries such as semiconductors, battery and the bio sector. He said in his greeting speech that if the two countries join forces like this, American corporations will secure a stable supply network for components and Korean companies will find a wider market and grow together.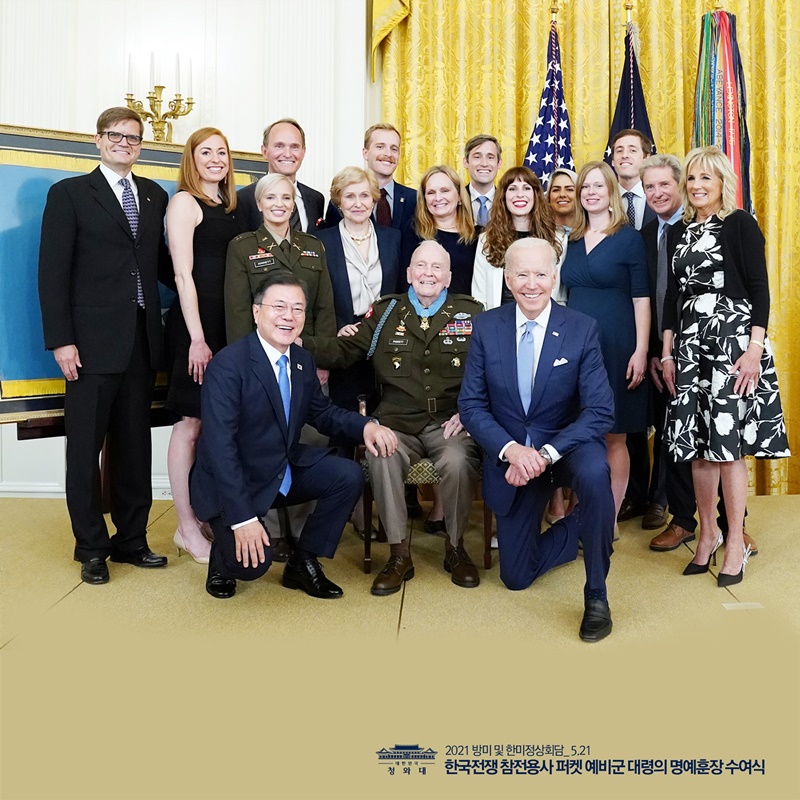 President Moon Jae-in and U.S. President Joe Biden on May 21 take a commemorative photo with Korean War veteran Ralph Puckett Jr (middle in front row) and his family before the bilateral summit at the White House. President Biden honored the highly decorated veteran with the U.S. Medal of Honor.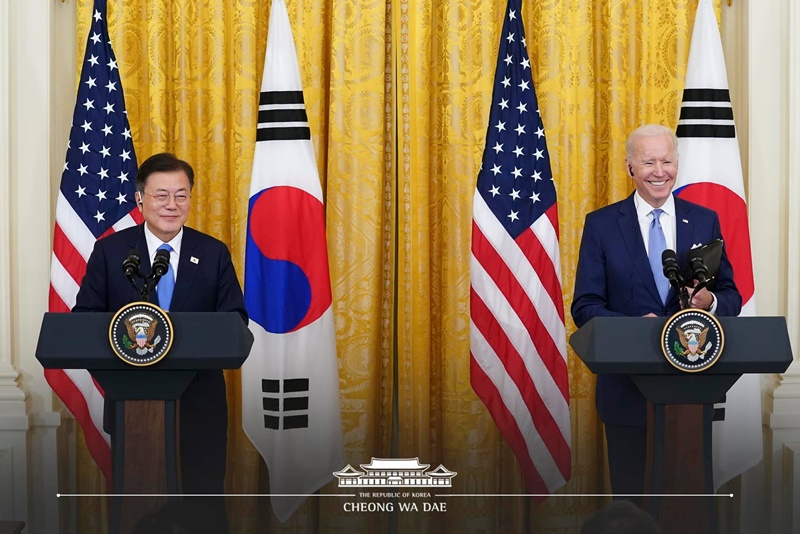 President Moon Jae-in and U.S. President Joe Biden on May 21 speak at their joint news conference after their first in-person summit, which followed the award ceremony for Puckett. They held talks by themselves for 37 minutes, a small meeting with economic advisers and an extended summit. Both presidents discussed a variety of agenda comprehensively and in depth and held a joint news conference afterwards.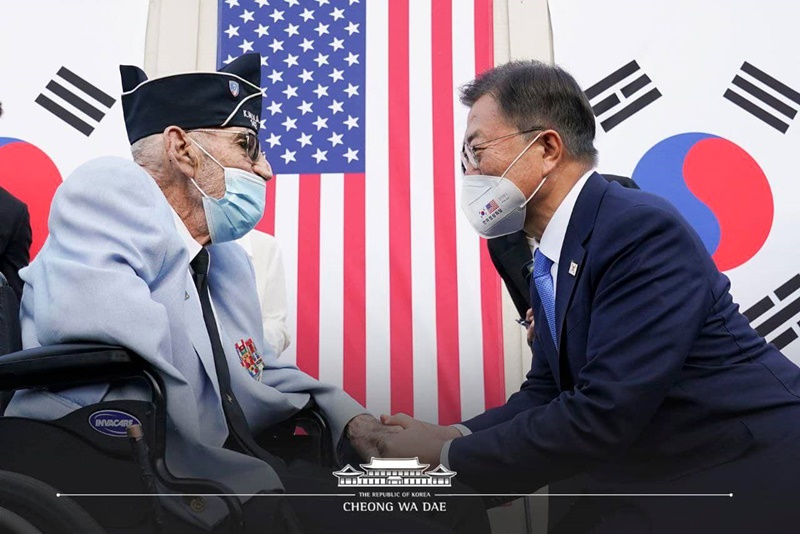 President Moon Jae-in on May 21 attended the groundbreaking ceremony for the Wall of Remembrance at the Korean War Veterans Memorial in Washington. Shown here speaking to the decorated Korean War veteran William Weber, he paid his respects to fallen soldiers and their families. In his commemorative address, he said, "We will remember the valor and devotion of those heroes forever," adding, "As President of the Republic of Korea, let me make it clear that the sacrifices of those heroes have never been in vain." The wall is part of a memorial project for the U.N.'s participation in Korean War. It aims to pay gratitude to Korean War veterans and boost bilateral cooperation.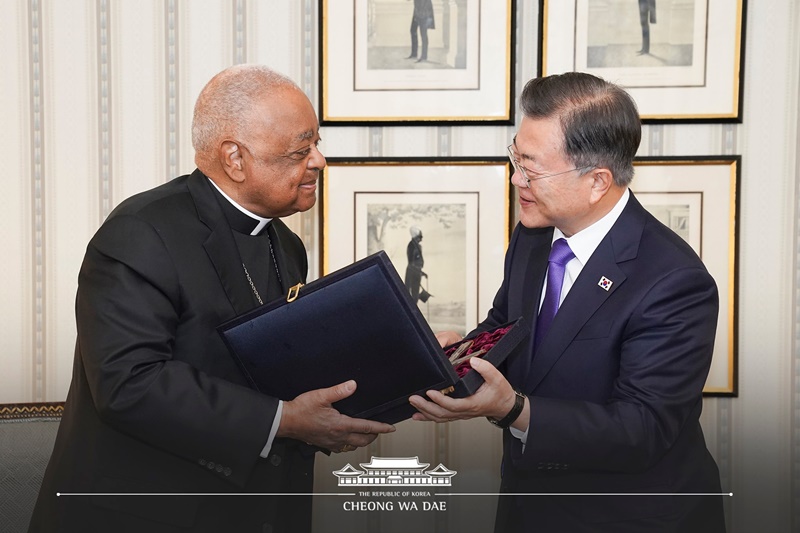 President Moon Jae-in on May 22 meets Cardinal Wilton Gregory, archbishop of Washington and the first African American cardinal. They discussed peace on the Korean Peninsula, interracial harmony and response to COVID-19. The chief executive saluted the priest's efforts to solve interracial conflict, and Cardinal Gregory gave his blessing to President Moon for the peace and well-being of the Korean people.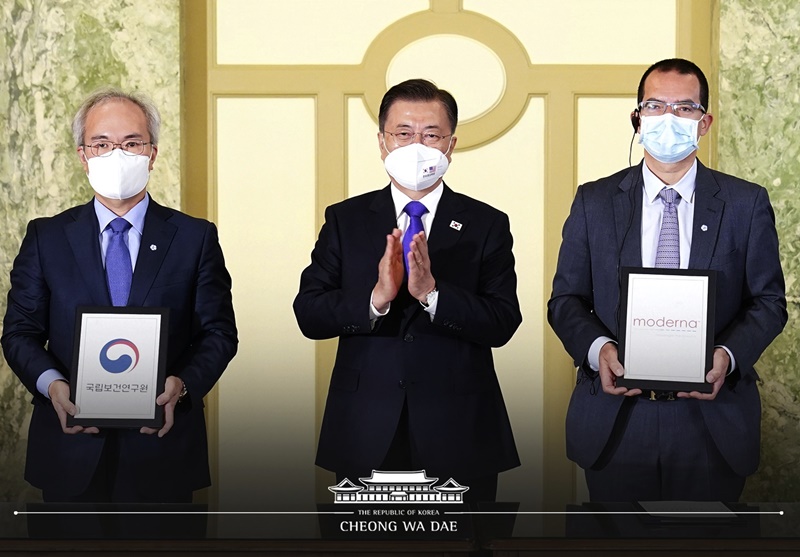 President Moon Jae-in on May 22 attends a Korea-U.S. event on vaccine corporation partnership at the hotel Willard Intercontinental Washington D.C. There, he encouraged businesspeople and asked for higher bilateral cooperation in COVID-19. People related to the response to the pandemic from both countries attended the event, including Minister of Health and Welfare Kwon Deok-cheol, Minister of Trade, Industry and Energy Moon SungWook, Moderna CEO Stephane Bancel and Novavax CEO Stanley Erck.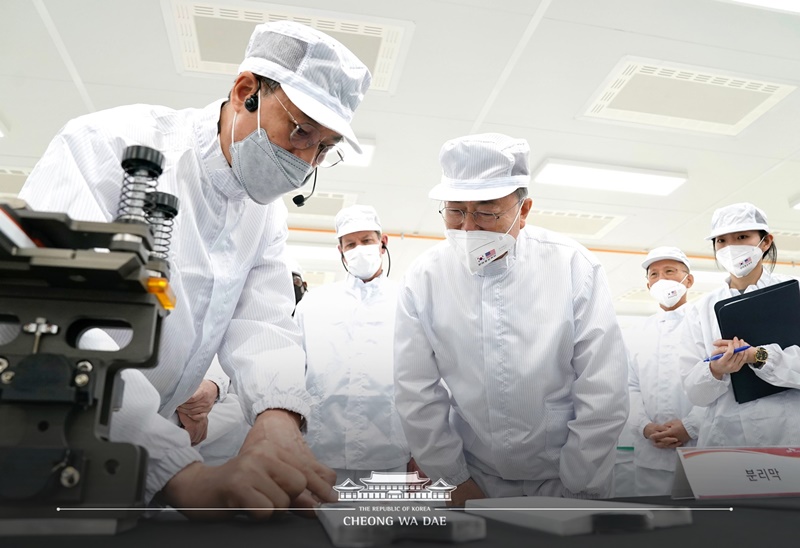 On the final stop of his U.S. visit, President Moon Jae-in on May 22 tours SK Innovation's electric vehicle battery plant in Georgia wearing a dustproof protective suit.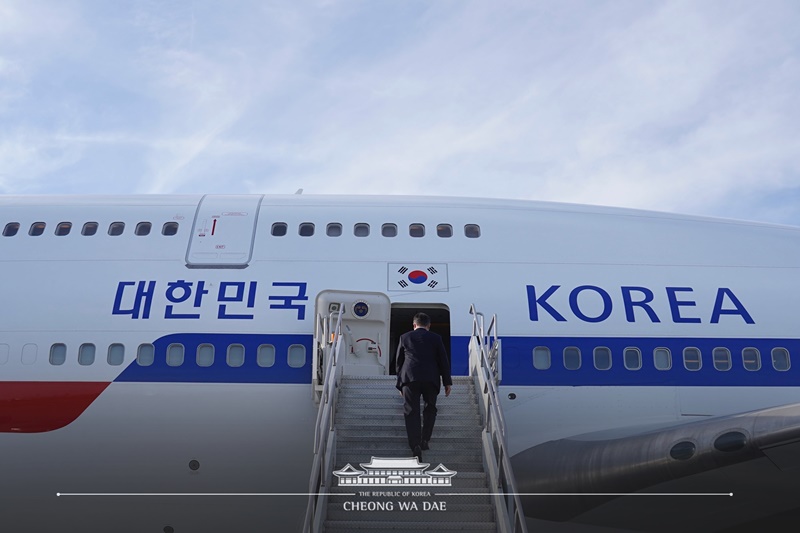 President Moon Jae-in on May 22 boards the official presidential plane Code One at Hartsfield-Jackson Atlanta International Airport, thus finishing his U.S. visit.