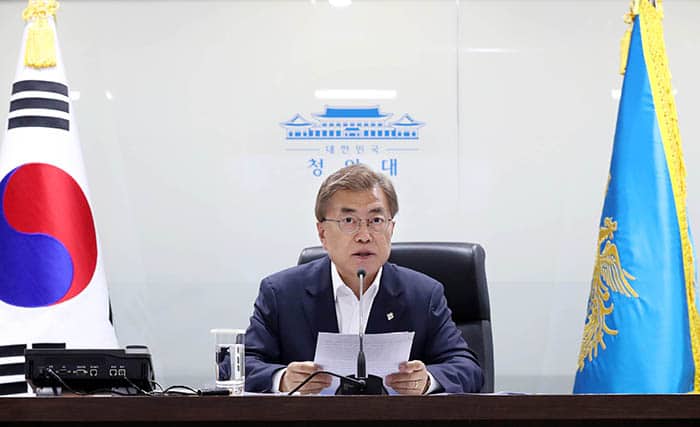 By Sohn JiAe
Photos = Cheong Wa Dae
President Moon Jae-in presided over his new administration's first National Security Council meeting on June 8, the same day that North Korea carried out yet another test missile launch.
In attendance at the meeting were Prime Minister Lee Nak-yon, Minister of National Defense Han Minkoo, Minister of Foreign Affairs Yun Byung-se, Minister of Unification Hong Yong-pyo, Minister of the Interior Hong Yun-sik, head of the National Intelligence Service Suh Hoon, presidential Chief of Staff Im Jong-seok, chief of the National Security Office (NSO) Chung Eui-yong, and Lee Sang-chul, the first vice chief of the NSO.
President Moon affirmed that, "The only things that Pyongyang will gain from its ceaseless provocations are isolation and economic difficulties. The regime there will only lose opportunities for development. The Korean government will never step back and never compromise for the sake of national security or for the people's safety."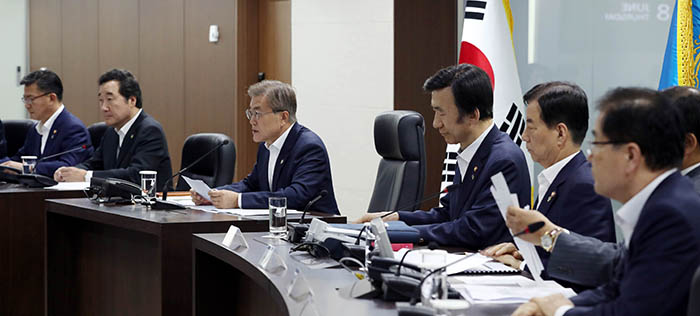 "Nothing is more important than finding creative and fundamental ways to deter the North from carrying out further provocations and to solve issues involving its nuclear weapons," said President Moon.
"I urge diplomatic and security ministries to work closely with our allied countries, including the U.S., and to join forces with the international community — the U.N. Security Council — so as to firmly respond to Pyongyang's threats together," he stated. "The military should also maintain a steadfast Korea-U.S. combined defense posture, while securing its independent capabilities to strongly respond to the North's nuclear weapons provocations on its own terms."