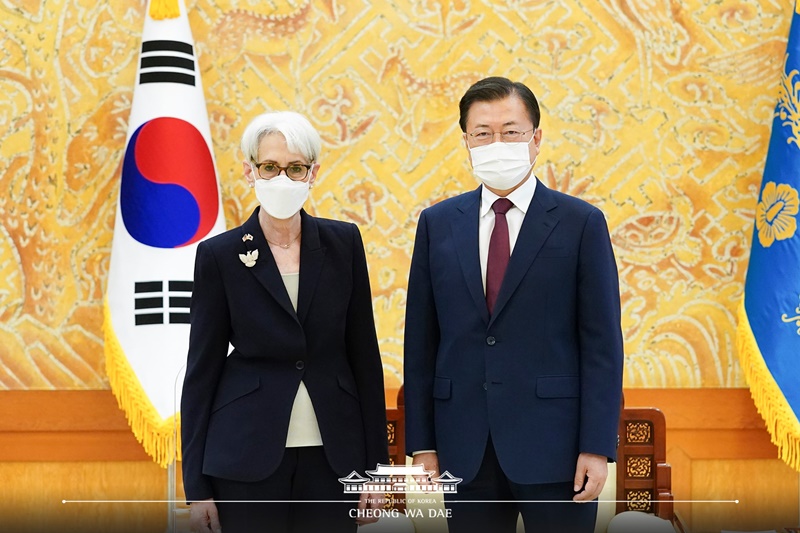 By Jung Joo-ri and Lee Jihae
President Moon Jae-in on July 22 asked U.S. Deputy Secretary of State Wendy Sherman for "active efforts" to resume U.S.-North Korea dialogue for the sake of the bilateral alliance and peace on the Korean Peninsula.
Cheong Wa Dae Spokesperson Park Kyung-mee said in a written briefing that the president said this during his 35-minute meeting with the visiting American official at Cheong Wa Dae that started at 11 a.m.
The chief executive welcomed the deputy secretary's first visit to Korea since she took office, calling her a "veteran" diplomat who has held important positions.
He said U.S. President Joe Biden has emphasized that "America is back," but given the lineup of U.S. Secretary of State Antony Blinken and the deputy secretary, President Moon added that the phrase "Diplomats are back" is necessary and that he has high expectations.
The American official said visiting Korea for the first time in a long while feels like coming to her second home, calling Korea a real partner of the U.S. and a genuine global partner.
President Moon said both countries agreed in their bilateral summit in May to continue cooperation through bilateral talks and diplomacy to achieve their common goal: the complete denuclearization and settlement of a permanent peace on the peninsula. He also urged the deputy secretary to actively strive to have the U.S. resume dialogue with North Korea.
Deputy Secretary Sherman said she hopes the North will give an early affirmative response to the proposition of talks with the U.S., adding that she hopes that Seoul and Washington closely coordinate efforts in cooperation in policy toward Pyeongyang.
President Moon and Deputy Secretary Sherman also exchanged opinions on regional and global issues.
The U.S. diplomat said she hopes both countries, which have a strong alliance, will jointly work to resolve global issues such as climate change.
Citing the global popularity of the BTS hit "Permission to Dance," she said that since Korea is in sync with the U.S., there is no need to ask for "permission." She also stressed the bilateral alliance and global leadership.
President Moon asked that the deputy secretary convey his "special regards" to U.S. President Biden after her return home.