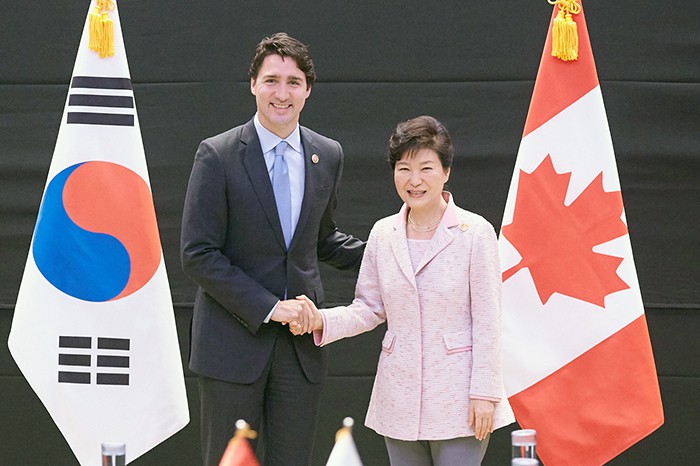 Korea-Canada summit
President Park Geun-hye, currently on a trip to Manila to attend the 23rd Asia-Pacific Economic Cooperation (APEC) meeting, met with her Canadian counterpart, Prime Minister Justin Trudeau, on Nov. 18.
During the summit, held on the sidelines of the APEC meeting, President Park mentioned that the free trade agreement (FTA) between Korea and Canada that took effect last January has so far brought about positive effects, and that the effects have been felt among the people of the two nations.
In response, the Canadian prime minister recognized the growing bilateral cooperation between the two countries, not only in terms of trade backed by the Korea-Canada FTA, but also based on direct relationships between companies.
He asked that the Agreement on Science, Technology and Innovation Cooperation should be expedited. President Park acknowledged that Canada has a competitive edge in terms of life sciences, energy and basic marine science, while Korea is one of the world's powerhouses in terms of industrial technology and IT hardware. The two leaders agreed that this pairing would bring mutual benefits to each nation if a treaty were to be agreed upon.
President Park also expressed her gratitude to the Canadian government for firmly supporting her inter-Korean policies, especially for joining the international efforts to call on North Korea to walk down a new path. She urged the Canadian government to work together to make North Korea nuclear weapons-free, even though the nation is continuously developing nuclear weapons. In the process, the two countries should join forces to further enhance international cooperation, she added.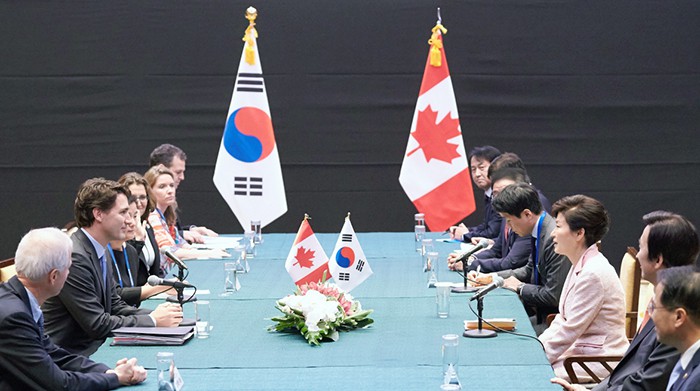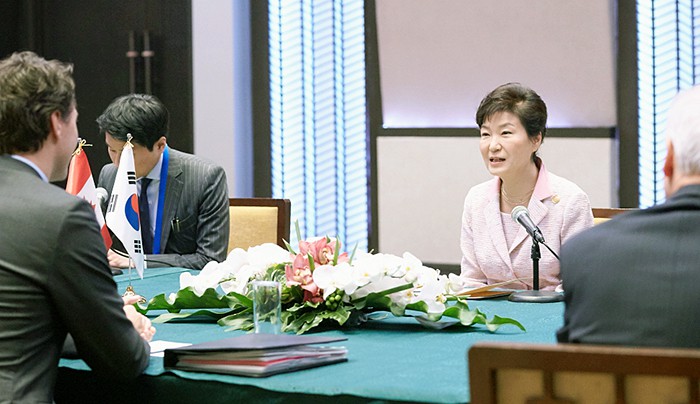 On top of these issues, the two leaders agreed to closely cooperate on how to cope with challenges posed by worsening climate change. President Park stressed that responding to climate change should be viewed not as a burden, but as an opportunity to secure new engines of economic growth.
She mentioned Canada's development assistance efforts made in developing countries across the globe and said that those may offer good lessons to Korea, in that Korea could handle its own official development assistance (ODA) program in a similar manner. Korea's ODA program, she said, contributes to helping cultivate capabilities of emerging economies by sharing with them what Korea experienced through the New Community Movement, or Saemaul Undong, a rural assistance program from the 1970s and 1980s, and through education.
The Canadian leader responded by expressing his hope that since aid for such developing countries could prevent war and instability, the two countries should further strengthen bilateral cooperation on the issue.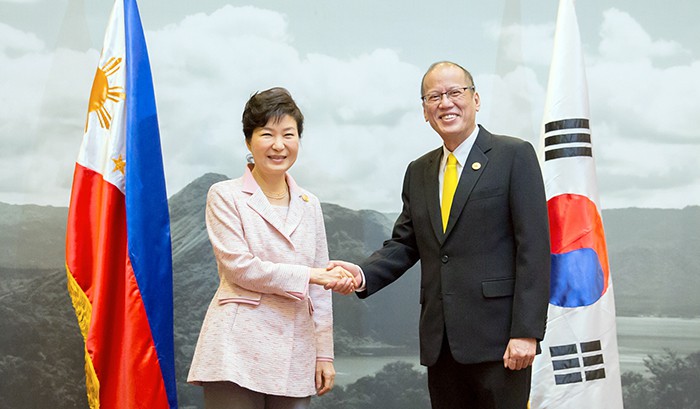 Korea-Philippines summit
President Park also held a summit with Philippine President Benigno Aquino. During the summit, the Philippine president expressed his hope for more investment in such areas as food processing, renewable energies and public-private partnerships (PPP), and also said that he hopes for more enhanced cooperation between the two nations across a wide range of sectors.
President Park said that since the Korea-ASEAN FTA came into effect, the total number of transactions between Korea and the Philippines surpassed USD 13 billion as of last year, and that it is continuously on the rise. She requested that more efforts be made to bring about good results in the ongoing FTA negotiations.
President Park also expected more active participation in massive infrastructure projects by Korean companies, including projects to build roads and airports. She hoped that the participation of Korean companies would help grow the Philippine's economy. Her Philippine counterpart hoped to see more active participation in such projects by Korean firms, too.
The two leaders also vowed to expand bilateral cooperation on health care. President Park laid out measures to further enhance cooperation in that industry, on the basis of a memorandum of understanding that covers healthcare cooperation. It includes building a sound foundation for cooperation on healthcare and medicine, setting policies on public healthcare and diseases, and strengthening cooperation on telemedicine technologies.
The Philippine leader stressed the need for telemedicine using mobile phones, to provide medical services to those who live in medically underserved areas, including many people in his archipelago nation. He said that telemedicine services would offer a chance to patients who hardly have any access to medical services or to required treatment in the early stages of an illness.
President Park affirmed that the Korean government would continue to provide assistance in other areas of mutual interest, as well as medical services, such as transportation infrastructure, agriculture and the development of water resources. She vowed to push ahead with a new project for 2016 to help enhance police investigation capabilities in the Philippines.
The Philippine leader acknowledged that the way in which the Korean government responds to provocations by North Korea has contributed greatly to easing tension across the peninsula, mentioning how the government reacted to recent provocations near the Demilitarized Zone (DMZ).
He said that, "We firmly support the Korean government's inter-Korean policies, including the so-called Trust-building Process on the Korean Peninsula, and we will do all we can to help the government cope with the issue."
President Park stated that human-to-human exchanges that cover more than 1.6 million people annually, as well as a growing number of Filipinas who fly to Korea to marry Korean men, a number which has reached more than 10,000 per year, have laid the foundation for stronger bilateral ties between the two countries. She added that it is crucial that people of the two countries feel safe in the other nation, and she called for the Philippine government to make more efforts to strengthen security for Korean citizens residing in the Philippines.
Finally, President Aquino expressed his deepest condolences and sent words of comfort to the family of a Korean victim who was taken hostage by a terrorist group in the Philippines and who was later found dead. He promised that proper measures to protect Korean citizens from such dangers would be put into place across the nation.
By Wi Tack-whan, Sohn JiAe
Korea.net Staff Writers
Photos: Cheong Wa Dae
[email protected]