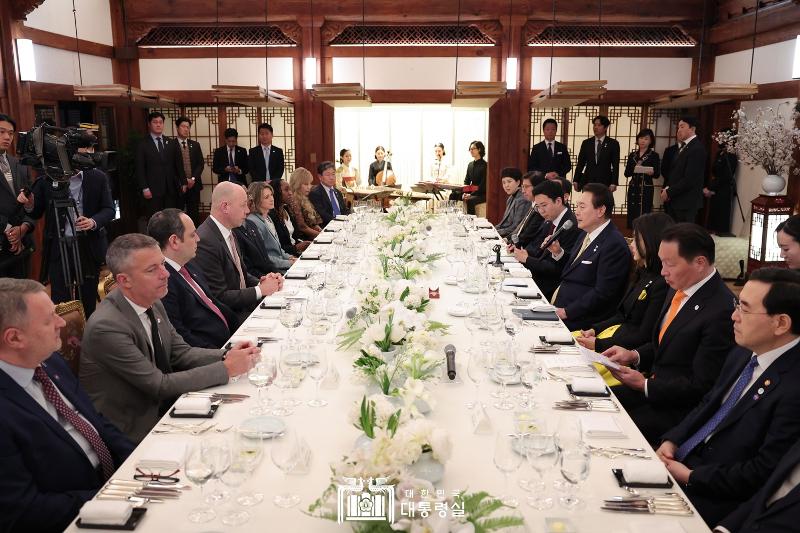 https://w.soundcloud.com/player/?url=https%3A//api.soundcloud.com/tracks/1484742202&color=%23ff5500&auto_play=false&hide_related=false&show_comments=true&show_user=true&show_reposts=false&show_teaser=true
President tells BIE at banquet 'Busan is ready' to host World Expo
By Jung Joo-ri
Photos = Office of the President

President Yoon Suk Yeol on April 3 hosted a banquet at Sangchunjae, the reception hall of Cheong Wa Dae, for a visiting delegation from the International Bureau of Expositions (BIE) assigned to inspect Busan's bid to host the 2030 World Expo.
Prior to the event, President Yoon greeted and shook hands with delegation members and took photos with them, his spokesperson Lee Do Woon said in a news release.

In his welcoming speech, the president said, "Our government, along with the private sector, is sincerely conducting activities to attract the 2030 World Expo to Busan so that future generations of the Republic of Korea can dream of a better world and global citizens can dream of a better future."

"The Busan Expo will be an opportunity to share our variety of experiences and strengths, seek solutions to the challenges we face and yield innovation."

"The Busan Expo will be like a festival that pursues common peace, freedom and prosperity," he added.

The president ended his speech by saying in English, "Busan is ready."

BIE delegation chief Patrick Specht said what his team considers most important is extensive support across multiple sectors. Thanking President Yoon and the Korean government for their active backing, Specht said he was deeply moved by the unanimous show of support from the National Assembly.

Through April 7, the delegation will check 14 categories in Busan such as infrastructure facilities, accommodation policy and finance. Members will also hear from leading figures from the government, legislature and companies on their plans for the bid.