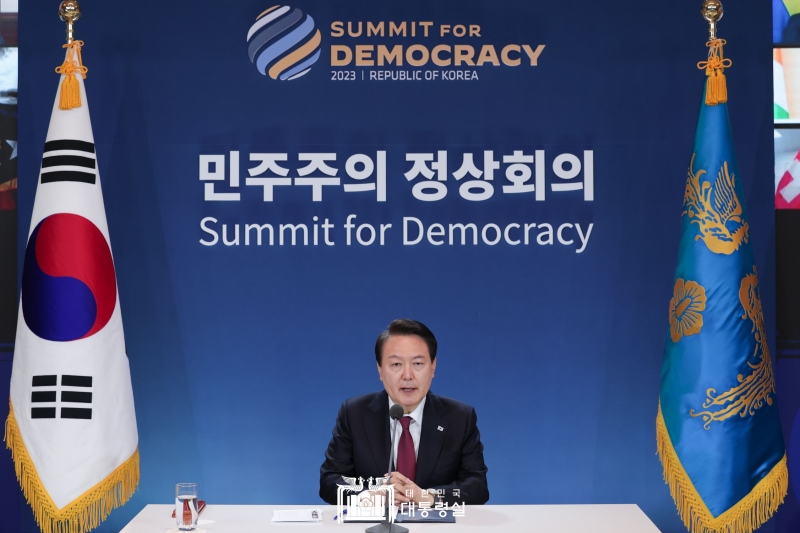 By Kim Hyelin

President Yoon Suk Yeol on March 29 said, "Korea, as a host country of the next Summit for Democracy, will do our part to further consolidate democracy that guarantees freedom and parliamentary democracy, which is represented by rule of law and representative democracy."
He said this in the afternoon that day in his opening speech at the first plenary session held online of the second Summit for Democracy at Yeongbingwan, the guesthouse of Cheong Wa Dae, presidential spokesperson Lee Do Woon said in a news release.
The leaders of Korea and the U.S. also said in a joint statement that President Yoon will host the third summit next year.
The inaugural summit was hosted by U.S. President Joe Biden in December 2021. The second edition held this year was led by the U.S. with the participation of 120 countries and four co-hosting nations: Korea, Costa Rica, the Netherlands and Zambia.
President Yoon warned of the spread of "fake democracy" while the international community is divided due to a variety of crises including geopolitical conflicts and rivalry of interests, adding, "We must embark on a new journey to revive democracy that is currently under attack through our painstaking innovation and coalition."
Calling the history of Korea's development a constant journey for freedom, he said, "Seventy years ago, Korea was able to defend freedom, thanks to the help of the international community, and now we are fulfilling our duties and role as a 'facilitator of freedom' in the world."
President Yoon also announced Korea's hosting of the next Summit for Democracy, adding, "Through close cooperation with the international community, we will robustly support the coalition to firmly defend democracy and take actions."
After listening to speeches by eight heads of state, President Yoon wrapped up the session by saying, "Achieving both economic growth and joint prosperity isn't easy but can be possible if countries with shared values make efforts through solidarity."
Spokesperson Lee said, "Through today's meeting, President Yoon directly chaired the first plenary session as the leader of a co-hosting country in an opportunity to raise the country's international leadership and national prestige by demonstrating his intent to practice universal values such as freedom, democracy and human rights on the international stage."
"The event served as a stage not only to enhance national prestige by showcasing the excellence of the Republic of Korea's political and economic capacity, but also further solidify diplomacy contributing to the international community."
kimhyelin211@korea.kr