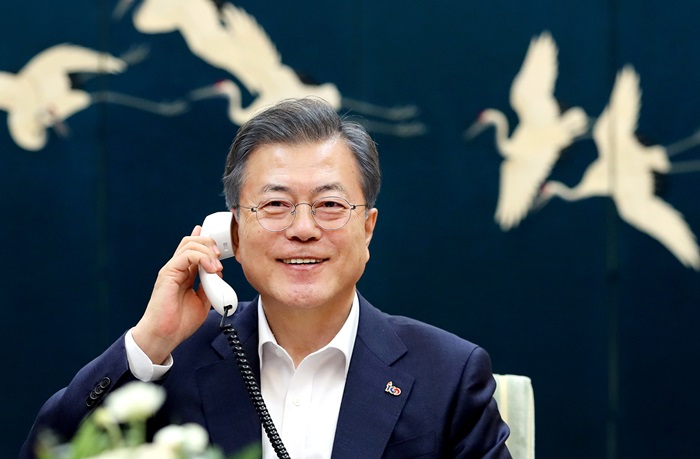 By Park Gil-ja and Lee Hana
President Moon Jae-in on Feb. 19 spoke over the phone with U.S. President Donald Trump on bilateral cooperation to ensure success in the upcoming U.S.-North Korea summit scheduled for Feb. 27-28 in Hanoi, Vietnam.
Cheong Wa Dae spokesperson Kim Eui-kyeom said President Moon asked his American counterpart to consider allowing Seoul to play a role in offering corresponding measures to facilitate Pyeongyang's denuclearization. Furthermore, he said that should Trump request it, South Korea is willing to take on inter-Korean economic cooperation projects, including the reconnection of railways between both sides.
President Moon also lauded Trump for making "new and bold diplomatic efforts" for peace on the Korean Peninsula. The Korean leader added that the upcoming Hanoi summit will serve as a significant turning point in achieving complete denuclearization, establishing peace on the peninsula and developing U.S.-North Korea relations based on the agreement made between Washington and Pyeongyang in Singapore last year.
Trump said he has high expectations for the Hanoi summit and will inform President Moon of the meeting's outcome, adding that he looked forward to meeting him in person soon.
"President Moon and I, the two of us, have been doing great, and the U.S.-Korea relations are better than ever," he said.
Click the link below for the official Cheong Wa Dae news release.
http://www.korea.net/Government/Briefing-Room/Press-Releases/view?articleId=3436&pageIndex=1&gov=

[email protected]