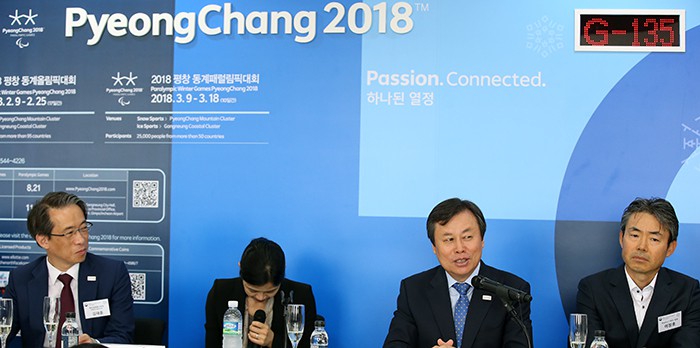 By Lee Hana
Photos = Jeon Han
Seoul | Sept. 27, 2017
"The Korean government, along with the international community, is working hard to make the upcoming PyeongChang 2018 Olympic and Paralympic Winter Games a safe and peaceful event."
This was the message that Minister of Culture, Sports and Tourism Do Jongwhan emphasized during a luncheon for foreign correspondents at Seoul's Foreign Press Center on Sept. 27.
With just 135 days left before the launch of the PyeongChang Olympics, Minister Do gave a progress report to a group of correspondents representing 29 media outlets from 11 countries, including Reuters, Kyodo News and the LA Times. The journalists took the opportunity to ask questions about some of the pertinent issues surrounding the big event.
When Dirk Godder of DPA News asked about progress on the construction of various facilities, the minister replied that accommodations, roads and transportation were all coming together on schedule. "The construction is about 97 percent complete, and when the new KTX Express train goes into service you'll be able to get to Gangneung from Seoul in an hour and ten minutes," he said.
A number of questions related to the current state of affairs on the Korean Peninsula followed, with journalists asking about how the political climate might affect the Olympics. The minister responded by saying that, "There's absolutely no need to worry," and that the Korean government "is working hard to host a peaceful Olympic event, and expects the Olympic Truce, submitted to the U.N. General Assembly, to be adopted on Nov. 13."
"Korea is more than prepared to handle any critical situation. We're doing everything we can to make sure that the PyeongChang Olympics sets the stage for a peaceful transition," he added.
When Maeng Ju-seok of ITN News asked about North Korea's participation in the upcoming Olympics, the minister said, "In order to make this happen, Thomas Bach, president of the International Olympic Committee (IOC), has requested that the IOC combine the counter for the two Koreas. We have accepted this request."
"The IOC is making a lot of effort to encourage North Korea's participation, both on the field and in other supporting roles," he added.