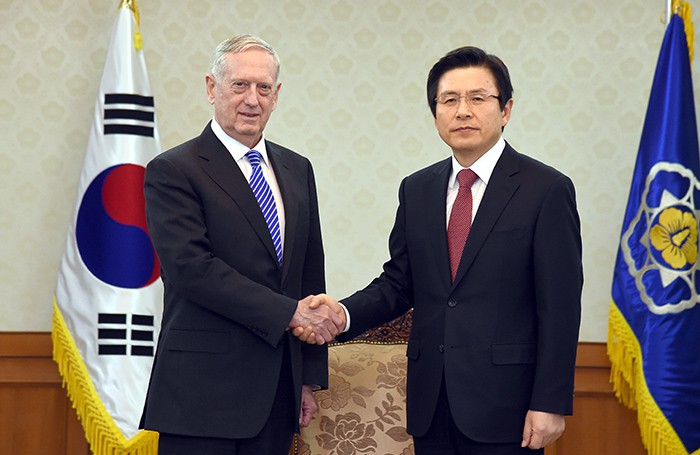 "We intend to be shoulder-to-shoulder with you as we face this together."
So said U.S. Secretary of Defense James Mattis during his visit to Korea on Feb. 2, the first destination for the U.S. secretary after the Trump administration took office in January.
In the meeting with acting President Hwang Kyo-ahn, Secretary Mattis said, "I talked to President Trump and he wanted to make a very clear statement about the priority we place on this alliance between our two nations." He told the acting president that the Trump administration will regard North Korea's nuclear threats as a top security issue and will strengthen Seoul-Washington relations.
Secretary Mattis also said, "We have to address the reality of the threat that your country and my country face and we intend to be shoulder-to-shoulder with you as we face this together." He also assured Korea of Washington's unchanged security commitment, such as a bolstered Korea-U.S. relationship and expanded deterrence capabilities.
Acting President Hwang told Secretary Mattis that, "Selecting Korea as the first destination for an overseas visit is meaningful because it proves the importance of the Korea-U.S. alliance and its future development potential at home and abroad."
Acting President Hwang hoped that his visit could bring fruitful outcomes for the development of the Korea-U.S. alliance, while mentioning the telephone conversation he held with U.S. President Donald Trump on Jan. 30 where they hoped to have a close discussion on the North Korean nuclear weapons issue and on the Seoul-Washington alliance.
Acting President Hwang and Secretary Mattis agreed that, "The Korea-U.S. alliance is the most successful alliance, and both Korea and the U.S. are partners that can work together toward the goal of resolving the North Korean nuclear weapons issues, and toward the eventual peaceful unification of the Korean Peninsula." They also hoped to work closely together on the continuing development of the bilateral alliance and on strengthening joint defense capability.
At the Korea-U.S. ministerial meeting the next day, Secretary Mattis again reaffirmed Washington's defense commitment to bolstering the Korea-U.S. alliance.
Secretary Mattis said that the U.S. would stand with South Korean citizens who love peace in order in order to maintain stability on the Korean Peninsula and across the region.
He said, "America's commitments to defending our allies and to upholding our extended deterrence guarantees remain ironclad. Any attack on the United States, or our allies, will be defeated, and any use of nuclear weapons would be met with a response that would be effective and overwhelming."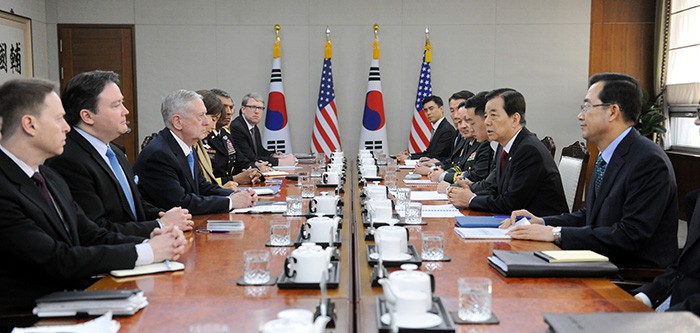 During that meeting, defense officials from both countries agreed to carry out the deployment of the Terminal High Altitude Area Defense system (THAAD) within the year, according to plan.
Minister of National Defense Han Minkoo said, "I'm confident that today's meeting reconfirmed the firm, steadfast Korea-U.S. alliance. I hope the close cooperative ties between the two defense ministries can lead to the continuing development of the strategic alliance between Seoul and Washington."
By Yoon Sojung
Korea.net Staff Writer
Photos: Prime Minister's Office, Ministry of National Defense
[email protected]