By Sohn JiAe
President Moon Jae-in was briefed on May 29 by his special envoys to Russia, the European Union (EU), Germany and to the Association of Southeast Asian Nations (ASEAN), all of whom had recently returned home after their diplomatic achievements.
According to Cheong Wa Dae spokesperson Park Su-hyun in a briefing held following the talks, President Moon said that, "It's a huge achievement that the envoys held face-to-face meetings with the leaders of their respective nations or regions. This achievement surely proves that our scope of diplomacy has diversified and expanded."
Calling Russia "a very important country for our nation," President Moon said to the envoy to Russia, Song Young-gil, that, "Your destination country is crucial, not only for us to map a future where we will develop resources together, like natural gas, across Siberia, the North Pole route and, also, railways reaching European nations, but also for us to seek potent means to solve inter-Korean issues."
"All these issues were under discussion in your meeting with the Russian leader. I hope this achievement will lay the foundation for a possible Korea-Russia summit that would result in a better relationship between the two countries," he said.
"I delivered our unwavering commitment to continuing to develop the Korea-Russia strategic partnership," said Song. "We also discussed ways to resume trilateral cooperation on the development of the Russian Far East, between North and South Korea and Russia, as well as on solving issues involving North Korean nuclear weapons, and achieving peace across the Korean Peninsula."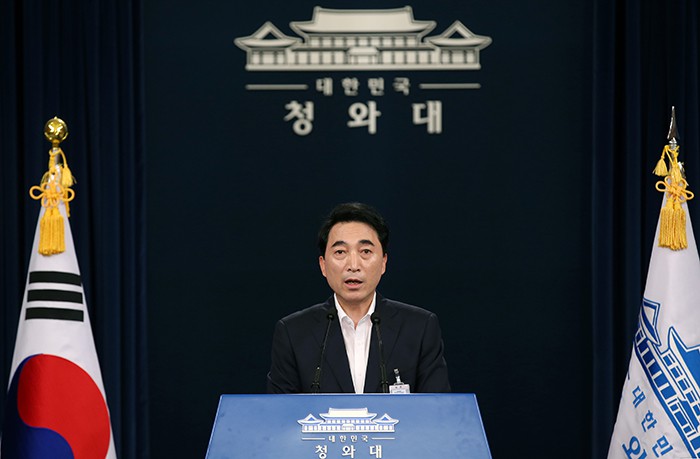 "Our government has now become the first Korean administration to specifically send an envoy to ASEAN, and the move has brought about great achievements in terms of expanding and diversifying the depth and scope of our diplomacy," said Seoul Mayor Park Won Soon, the new government's ASEAN envoy. President Moon added that, "It means a lot, as dispatching an envoy to the region has broken the pattern of having envoys only to our four neighboring nations, and it has opened a new horizon in our diplomacy."
"ASEAN plays a significant role. We expect the region to fulfill its role when it comes to creating an economic community, not only in Northeast Asia, but also across East Asia as a whole."
Turning to the envoy to the EU, Cho Yoon-je, who also met with German Chancellor Angela Merkel, President Moon said, "It's a highly significant achievement that the chancellor hopes to hold a summit prior to the upcoming G20 summit in Hamburg."
"The EU is very crucial, alongside ASEAN, in terms of securing international support for solving North Korean issues," he stressed.
In response, the envoy to the EU said, "On my mission, I identified full support from both the EU and Germany for our nation. We put together an agreement where European countries could work in-line with the philosophy and policy line pursued by our new government, to cooperate on a wide range of issues, including matters involving Pyongyang."