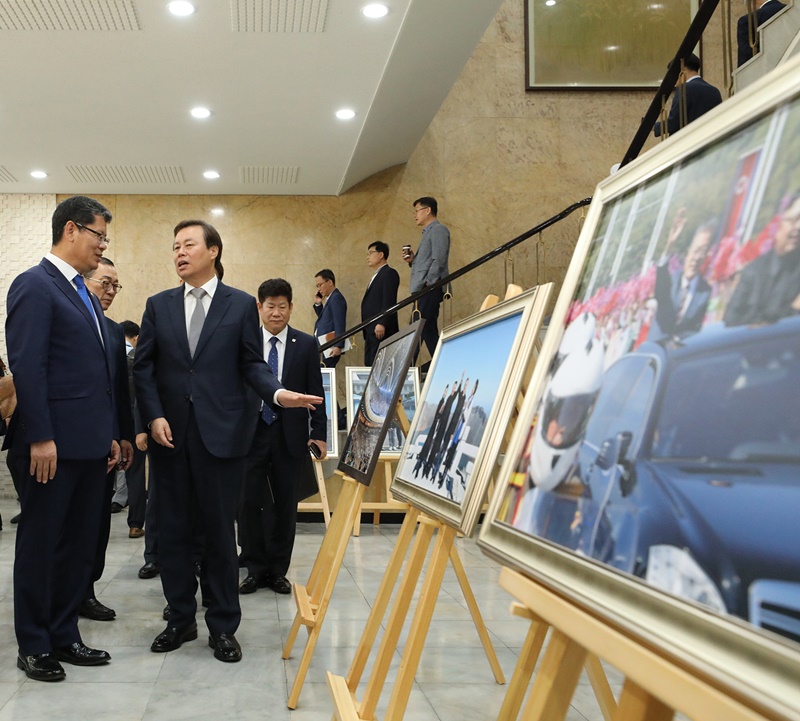 By Kim Minji and Lee Jihae
Photos = Ministry of Unification
An event to mark the first anniversary of the inter-Korea summit in Pyeongyang last year and assess the event's significance and achievements was held on Sept. 19 in the Samcheong-dong neighborhood of Seoul.
Hosted by the Ministry of Unification, the event attracted around 100 people including Minister Kim Yeon-chul, Jeong Se-hyun, executive vice chairman of the National Unification Advisory Council, and groups of separated families to share their hopes for peace, harmony and prosperity on the Korean Peninsula.
The third inter-Korea summit held last year came in September in North Korea's capital. There, President Moon Jae-in and North Korean leader Kim Jong Un discussed the formation of a permanent peace system on the peninsula and expansion of inter-Korean exchanges.
"Pushing forward the military policies set by the inter-Korean summit last year has greatly eased military tension on the Korean Peninsula and brought peace that people can directly feel," Kim Yeon-chul said in his commemorative speech. He also announced the results of the summit over the past year.
The minister pledged swift and further fulfillment of the policies set by the summit, saying, "The U.S. and North Korea have been in a stalemate since the Hanoi (Vietnam) summit, but that didn't extinguish the seeds for potential inter-dialogue."
After the event, visitors looked through photos of the summit and listened to a performance by the Lindenbaum ensemble and World Vision choir.
The event was originally scheduled for Paju, Gyeonggi-do Province, but the venue was shifted and the event scaled down amid the threat of African swine fever.
To commemorate the summit's first anniversary, Gyeonggi-do also launched on Sept. 18 the three-day festival "Let's DMZ (Demilitarized Zone)" at Korea International Exhibition Center aka KINTEX. The event is also designed to promote eco-tourism in the DMZ, the border between the two Koreas, and raise awareness of the importance of peace.