To gauge the direction of cooperation between Korea and the world, Korea.net is running a series of interviews with ambassadors to Korea. In this episode, Kazak Ambassador to Korea Bakyt Dyussenbayev speaks about the steady advancement of bilateral ties and cooperation between Seoul and Nursultan.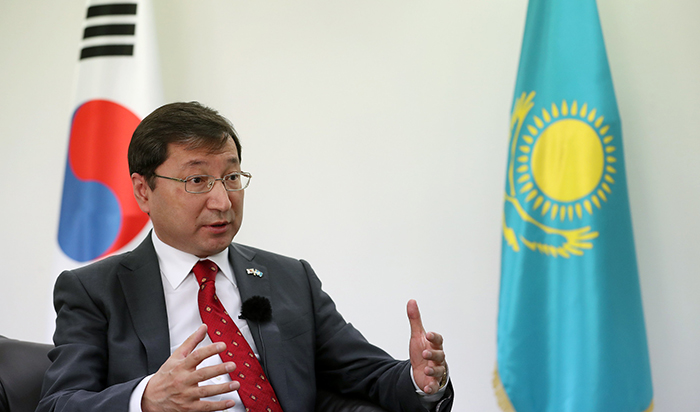 By Yoon Sojung and Kim Minji 
Photos = Jeon Han
Video = Kim Sunjoo and Choi Taesoon
Seoul | April 5, 2019
At first glance, Korea and Kazakhstan seem so different, as the Central Asian country is the world's ninth largest in area and requires a plane ride of about seven hours to get to from Korea.
Kazakh Ambassador to Korea Bakyt Dyussenbayev, however, says both countries share a lot in common in many aspects.
"Both countries have an important connection as the Korean and Kazak languages share the same Altaic root," he said, adding, "We also have more than 100,000 ethnic Koreans, or Goryeoin, in Kazakhstan who've helped us become closer."
"We have high hopes for the upcoming state visit of President Moon Jae-in," he said in an interview with Korea.net on April 5 at the Kazakh Embassy in Seoul's Yongsan-gu District.
"As Kazakhstan stretches to Europe, Asia and the Middle East, we can play an important role in Korea's New Northern Policy, which aims at connecting the Korean Peninsula and the Eurasian continent."
The following are excerpts from the interview.
– Korea and Kazakhstan have greatly boosted ties since forging diplomatic relations in 1992, with bilateral trade and people-to-people exchanges reaching record highs last year. What do you think has helped both sides improve ties? 
I would mention we have common roots in linguistic history because the roots of our two languages belong to the Altaic language group. According to scientists, both languages have about 300 words in common. For example, the Kazak word for "small" is "Шағын," pronounced "Şağın," and in Korean, it's "작은," pronounced "jag-eun." Another similar word is "асқабақ," pronounced "asqabaq" in Kazakhstani, which means pumpkin. In Korean, the same word is "호박," pronounced "hobak."
The Republic of Korea was one of the first states to establish a relationship with Kazakhstan after we gained independence in 1991. Since then, we've enjoyed a high level of bilateral relations, and the former leaders of both countries have each made reciprocal visits to each other's nation five times.
In 2009, the two countries adopted a special document under which we agreed to upgrade the level of our partnership to a strategic partnership. Since this year is the 10th anniversary of this strategic partnership, it is meaningful and a great pleasure and honor for us to host President Moon Jae-in's state visit to Kazakhstan.
– What sectors are both countries showing the most active cooperation in and what are promising fields for possible collaboration?

In Kazakhstan, we have more than 500 companies with Korean participation. We can find big Korean firms such as Samsung and LG groups, Hyundai Motor Company, POSCO and Korea National Oil Corp. These companies are participating in various fields and sectors of our economy including engineering, machinery, health care, education and construction.
As for promising sectors, I would mention agriculture and petrochemicals, especially in technological cooperation. I also stress that we're a member of the Eurasian Economic Union, which means we have free access to a bigger market spanning both Europe and Asia.
– How can Korea's New Northern Policy and the Kazakhstan 2050 Strategy create synergy in your view? 
We completely support the Korean government's initiative of the New Northern Policy. Kazakhstan can be a key partner in this policy because of our geopolitical situation, as our territory is a natural bridge between Asia and Europe. Also, the Kazakh economy represents 70 percent of the Central Asian economy, so we can work closely together to produce synergy.
– How does Kazakhstan see the overall development of the peace process on the Korean Peninsula? 
We completely support Seoul's effort toward the peace process on the Korean Peninsula. Kazakhstan has a special voice in the international arena for non-proliferation of nuclear weapons, demilitarization and denuclearization. Former President Nursultan Nazarbayev rejected possession of nuclear weapons and also the world's largest nuclear testing zone in Semipalatinsk. This decision allowed us to obtain security guarantees from major nuclear powers and start our economic development and economic reform. Our model of denuclearization to achieve peace and prosperity is considered one of the world's most important. That's why we're completely open to sharing our experience in this matter.
– In your opinion, what should both countries do to deepen understanding and raise exchanges between their peoples?
Hosting various events is important to boost cultural understanding of each other's country. In Kazakhstan, we have more than 100,000 ethnic Koreans and their community has played an important part of our society. That's why we know a lot about and like Korean culture. When you say "Republic of Korea" in Kazakhstan, it means a friendly and hardworking country, high standard of living and quality.
We're also trying to present Kazak culture in Korea given growing interest in Kazakhstan by Korean society. From November last year to February this year, the National Museum of Korea held a special exhibition titled "The Cradleland of the Golden Man." And Suwon I'park Museum of Art hosted a special exhibition on modern Kazak art titled "Focus Kazakhstan – European Utopia."
This month, the cultural event Central Asian Spring Festival – Nowruz in Seoul is being held at the KF Gallery in Seoul's Jung-gu District through this April, and a special performance will be held at Cheonggye Plaza in Jongno-gu District on April 27 and 28. This allows you to learn more about Kazakhstan's culture and history along with those of the four other Central Asian countries.