To gauge the direction of cooperation between Korea and the world, Korea.net is running a series of interviews with ambassadors to Korea. The interview below features Norwegian Ambassador to Korea Frode Solberg, who discusses the bilateral partnership as both countries mark 60 years of diplomatic ties this year.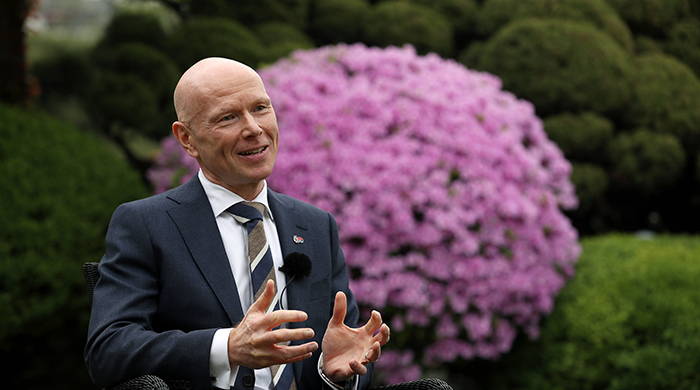 By Lee Hana
Photos = Jeon Han
Video = Kim Sunjoo, Choi Taesoon
Seoul | April 29, 2019
Bilateral relations between Korea and Norway, which mark their 60th anniversary this year, have strengthened ties in the maritime and marine sectors, making Korea one of Norway's biggest trading partners.
Backed by a close political relationship, cultural exchanges have also increased over time. The Nordic lifestyle is now a trend in Korea, while in Norway, Korea has become synonymous with cool, especially among young people.
"This is good for bilateral relations because it creates an excitement among young people to learn more about the country," said Norwegian Ambassador to Korea Frode Solberg, who held an interview with Korea.net on April 29 on the occasion of the 60th anniversary of bilateral ties this year.
"Koreans and Norwegians talk easily with one another because they both have a 'what you see is what you get' kind of approach to life. Our love of mountains and forests is another similarity. This was a nice surprise for me actually, and I hope that tourism will develop mutually in both of our countries in the years to come."
The following are excerpts from the interview.
– How would you assess 60 years of diplomatic relations between Korea and Norway?
It would be good to go back to the Korean War, when Norway participated through NORMASH, a mobile field hospital set up here. This was an important part of the buildup to our bilateral relations. We'd been through a war ourselves, and we knew how important it was to help others in the same situation. After the war ended, the hospital became the National Medical Center in Seoul. In 1959, we established diplomatic relations and our alliance has grown ever since, making Korea one of our most important trading partners not only in Asia but in the entire world.
– To celebrate this milestone, the Norwegian Embassy in Seoul will host a number of commemorative events. Could you walk us through the schedule?
I'd first like to point out that every year in Norwegian-Korean relations is full of events. This year is perhaps a little more special. One highlight this year is our celebration of Norwegian National Day and 60 years of close bilateral relations scheduled for May 16 in Seoul. Another highlight is the opening of a NORMASH exhibition at Seoul's War Memorial Museum on May 28, where we will get to see unpublished pictures from Norwegian field hospitals. There are also a number of cultural events. We will participate in a ceramics festival in Gyeonggi-do Province this autumn, and the Trondheim Philharmonic Orchestra will come to perform in November.
I should mention that (the events) are not only in Seoul. Busan, Ulsan and Geoje-do Island, these are important cities for Norway as we've been building ships and oil and gas rigs there for many years. We have many Norwegian companies there, delivering equipment and services to the big shipyards. So we'll have quite a few events there as well focusing on business, smart shipping and renewable energy. And of course, our annual Norway Day reception is in October.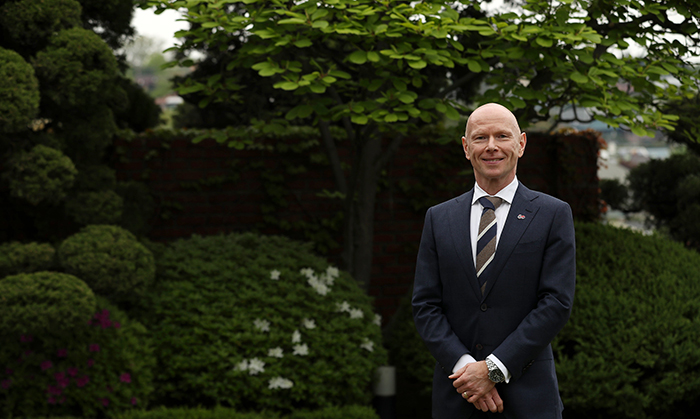 – Maritime, shipbuilding and seafood have dominated Korean-Norwegian trade. More recently, however, bilateral cooperation has expanded to areas like renewable energy, green growth and Arctic affairs. Which of these rising sectors do you feel stands out?
Norway is a country with substantial resources in natural gas and oil, but we also focus a lot on renewable energies. I know that Korea is standing before a transformation within the energy sector, and renewable energy will obviously be important in the years to come. We now see a broadening into more climate friendly solutions — energy being one of them — but also in traditional cooperation areas like shipbuilding. So we will move toward green solutions and smarter shipping.
In that regard, I'd also like to mention the Korean carmakers Hyundai and Kia. Norway, one of the most important electric vehicle (EV) markets in the world, has seen huge interest in Korean cars, with a two-year waiting list for EVs. There's also a focus on hydrogen fuel cell technology, so there's huge potential for future cooperation.
– Norwegians are getting in line for Korean EVs?
This is a very good story. EVs have been generally popular in Norway, but the Hyundai Kona and the Kia Niro — small and mid-size SUVs that Norwegians have a preference for – are what drew attention. Compared to older EV models with a driving range of 150-200 km per charge, the newer models like those of Hyundai and Kia have a range of 450-500km, and that has totally changed the game. There were cars with this range before but at a much higher cost. When these cars were introduced in Norway about a year ago, they boosted domestic interest in Korean EVs.
– More Scandinavians seem interested in learning about Korea and its culture. How would you gauge Norwegian interest in Korean music, food and other things?
The level of interest in and knowledge of (Korea by Norwegians) has increased tremendously over the past few years. These days, K-pop acts like BTS have become global superstars. Norwegians chat with Korean friends online to follow up on the latest scoop. There are high schools in Norway that have a special K-pop track. Korea is cool these days on the global market.
I feel privileged to be serving in such an exciting country. I think the tempo and dynamics of Korea are things that impress us all. There is high activity and tempo here that produce a lot of energy. That makes it exciting to be here.