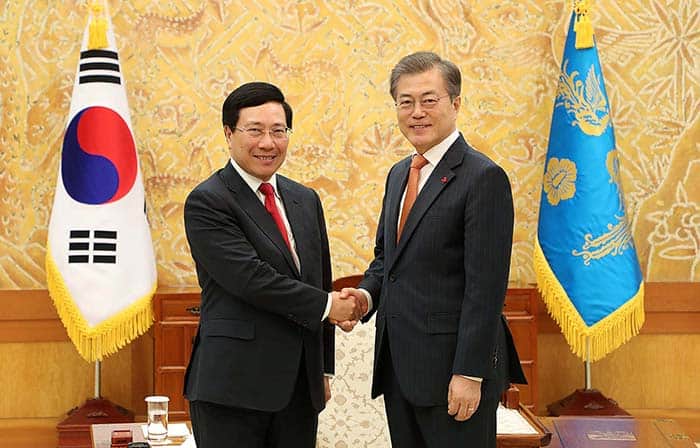 By Lee Hana
President Moon Jae-in met with Vietnamese Deputy Prime Minister and Foreign Minister Pham Binh Minh at Cheong Wa Dae on Dec. 21.
The deputy PM is visiting Korea in celebration of 25 years of diplomatic ties between Seoul and Hanoi. They discussed ways to strengthen cooperation between the two countries.
"I'm grateful that you followed in the footsteps of your father as deputy PM and foreign minister of Vietnam, helping to deepen relations between Seoul and Hanoi. With the past 25 years of experience under our belts, I hope to build a forward-looking, cooperative relationship with Vietnam in the 25 years ahead," said President Moon.
Pointing out that there are around 150,000 Korean and Vietnamese citizens living in each other's countries, the president said he would continue to support and show interest in Vietnamese people based here in Korea. He also said that he hopes this kind of effort would improve mutual understanding and increase cooperation.
Deputy PM Minh said, "My visit on the anniversary of our 25th year of diplomatic relations is quite meaningful. With Korea as our trusted partner, we hope to build Vietnam into a modern, industrialized country. I hope to improve our cooperative relationship across all areas and sectors."
"I'm also thankful for the special care you have shown toward my compatriots residing in Korea. The Vietnamese government will continue to offer support and cooperation so that we can further our long-lasting friendship."